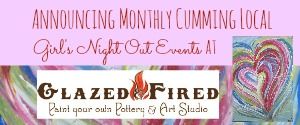 Announcing:  Monthly Girl's Night Out Events at Glazed & Fired
Yesterday we announced something new we were working on for you – a MONTHLY Girl's Night Out environment.  I was excited by all the excitement on our Facebook page too!
February Girl's Night Out
We'll host a different painting on the second Thursday of every month – with an exception of our first month.  Because of Valentine's Day, our February event will be on Thursday, February 7th.
Lead Artist, Jeanne, will be back to instruct us on this beautiful masterpiece – I LOVE this painting!!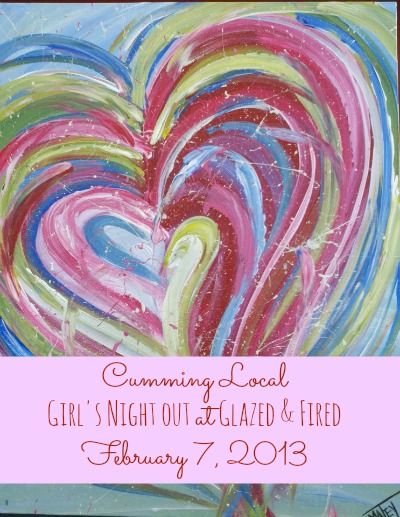 Event Details:
Date:  Thursday, February 7th
Time:  Instruction beginning at 6:30pm – please arrive approximately 15 mins in advance.
Cost:  $30* (includes private party event, light snacks & beverages, giveaways & fun)
Location:  Glazed & Fired – 435 Peachtree Pkwy, Cumming GA 30041
Registration:  Call Glazed & Fired to reserve your spot with payment – 678.208.6096.
*This is a discounted rate for the Cumming Local events, courtesy of Glazed & Fired.
February Co-Sponsors: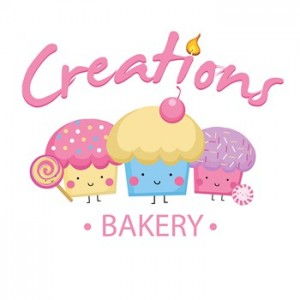 We're thankful for our co-sponsors of our February event.  Creations Bakery, just off the square in Cumming GA, will provide us with some Valentine treats to enjoy during the evening.  Creations is the perfect place in town to contact for your special request and bakery needs, but don't forget they're also great for just stopping in and picking up some sweet treats.  Their bakery case is always filled with great looking & great tasting creations!

Creations Bakery
101 Meadows Drive, Cumming GA 30040
Phone:  770.887.4944
Like Creations Bakery on Facebook
Visit Creations Bakery Online
Check out their Online Photo Gallery


Glazed & Fired has so much going on these days.  Whether you pop in to paint a pottery piece, schedule a private canvas party, take a "Mommy & Me" class, register the kids for a Kid's Workshop, host a birthday party, or take advantage of other fun events on the Glazed & Fired Calendar … there is always something going on!
During our Girl's Night Out this month, Glazed & Fired will also be raffling off a $25 Gift Certificate to their Studio.
Glazed & Fired
435 Peachtree Pkwy, Cumming GA 30041
Phone:  678.208.6096
Like Glazed & Fired on Facebook
Visit Glazed & Fired Online
To Register:
Space is limited and should be reserved in advance. 
To reserve your spot and register for the February 7th event, please call Glazed & Fired at 678.208.6096.
Let them know you want to sign up for the February 7th Cumming Local Girl's Night Out Event.
They'll accept your payment over the phone and reserve your spot!