Monster Jam 2017 at the Georgia Dome
March 5th, 2017 will always be a special day to me and my family. Why, you ask? Because we were able to attend the very LAST event at the Georgia Dome. We said goodbye to the Georgia Dome with dirt, diesel gas,  popcorn, sweets, and MONSTER TRUCKS! That's right – we attended Monster Jam on Sunday, March 5th at 3:30pm.


As seen in the photo above, ear protection was a MUST! It's super loud in the arena with all those trucks. We all wore ear protection and I'm so glad we did! 
I realized a few minutes into the show that I hadn't been to Monster Jam since I was in college. And I didn't really remember that particular show because I was too distracted with the handsome guy I was with. This time around I was all into the show. Oh and that handsome guy is now my husband! Both of my kids are BIG Grave Digger fans and they were loving cheering him on. Last month, Finn (age 7) got to interview one of the drivers of Grave Digger. You can see what Finn asked Morgan Kane by clicking here.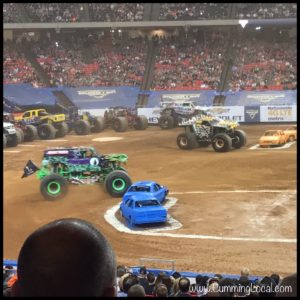 Let's talk for a minute about the tricks these guys and gals did in the monster trucks. I was amazed at the way they can navigate such a large piece of equipment. At one point of the show, Monster Energy flipped the truck and landed back up after being upside down on the hood. Crazy! The Grave Digger also had quite the spectacle performance during the freestyle competition. Watch this video to see what i'm talking about…

After talking with my family, we believe that Monster Jam is a great date night or family night (or afternoon) out. The show keeps you on the edge of your seat the whole time. Our show lasted 2 1/2 hours with an intermission but it certainly didn't feel that way. And actually when it was over we said that we could have easily watched more.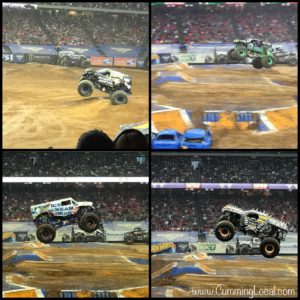 And it was a close competition the whole time. Great job to all the drivers and staff of Monster Jam 2017! We really enjoyed being there for the last event at the Georgia Dome.
See you in 2018 at the Mercedes-Benz Stadium, Monster Jam!
To read more about the history of Monster Jam at Georgia Dome, click here.
---
Disclosure: We were provided with four tickets to Monster Jam. However, my opinions are 100% my own.