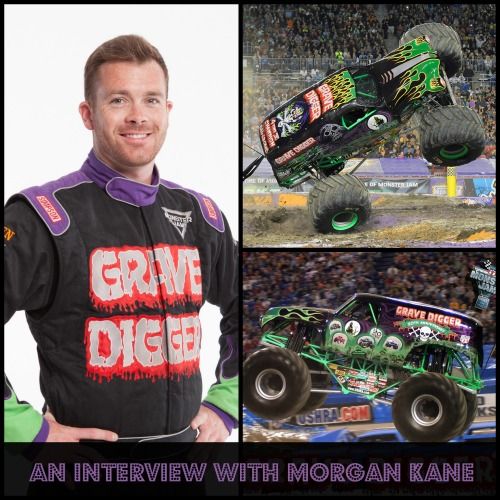 This past week, I was given the opportunity to interview Morgan Kane. Morgan is the driver of Monster Jam's Grave Digger. Since my son loves all things Monster Trucks and his favorite one is the Grave Digger, I decided to let him come up with the questions and do the interview himself.
Monster Jam is coming to Atlanta on March 4 & 5th. Tickets are available now, for more information on tickets – click here.
Do you ever get hurt when you flip in the Grave Digger?
Morgan Kane: "No, I haven't been hurt doing flips.  Also, most of the flips I do are controlled meaning I have practiced doing them. And safety first, Finn! I'm in a harness seatbelt."
How did you learn to drive the Grave Digger?
Morgan Kane: "I grew up watching Dennis cover so much ground in 75 seconds and that style just kind of stuck with me. I officially started my rookie season in 2011. To date, I have driven 11 total trucks. I've driven the Stone Crusher, Ironman, and then Max D. Last year, I made the switch from Max D to Grave Digger."
What's the most thing you've done so far?
Morgan Kane: "Definitely traveling from city to city. I've been to Australia three times and Barcelona, Madrid and Spain two times. I love being able to hang out with in many different cultures and people."
What is your greatest memory as a Monster Jam driver?
Morgan Kane: "My favorite memory is winning the Monster Jam World Finals XVII racing championship. Total team effort from the Grave Digger team. The truck was so hot going into the finals verses Todd Leduc and we had to use a jump box on 24v to get it to start. GD25 was on a rail that night."
Who in Monster Jam do you look up to for inspiration?
Morgan Kane: "In Monster Jam, all the veterans have my respect. The guys that build this sport to what it is today inspire me. They paved the road with a couple of trucks built from junkyard parts and made it possible for us to continue their legacy for the future fans."
If you could tell the Cumming Local readers one thing, what would it be?
Morgan Kane: "If you like to have fun with your family, get tickets and come see our show on Sunday, March 5th at 3:30pm! We will also have a Pit Party from 12-2pm. This is the ultimate fan experience! You will get to walk around and see the course up close. All the drivers will be there for you to meet, take pictures with & get autographs."
Hope to see you at the Monster Jam Show!
For more information on a Monster Jam near you, please log onto www.MonsterJam.com or follow us via our social channels below:
Facebook | Twitter | Instagram | YouTube
---
About Feld Entertainment:
Feld Entertainment is the worldwide leader in producing and presenting live touring family entertainment experiences that lift the human spirit and create indelible memories, with 30 million people in attendance at its shows each year. Feld Entertainment's productions have appeared in more than 75 countries and on six continents to date and include Ringling Bros. and Barnum & Bailey®, Monster Jam®, Monster Energy Supercross, AMSOIL Arenacross, Disney On Ice, Disney Live! and Marvel Universe LIVE! More information about Feld Entertainment is available online at www.feldentertainment.com.