Medieval Times Atlanta: Parent Review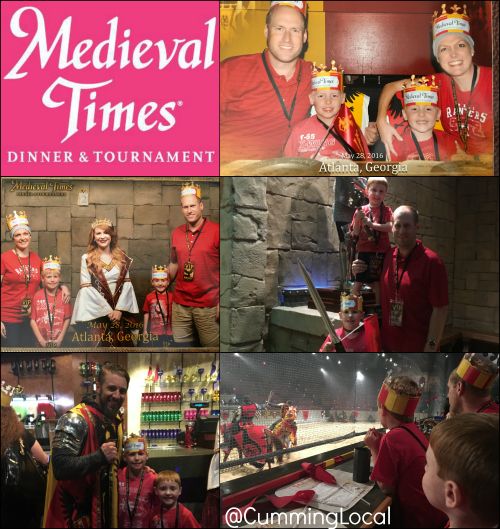 Cumming Local is so grateful for contributing writers! This guest blog post is from one of Rachael's very best friends, Ashley. Her family recently experienced Medieval Times. Ashley's boys are 9, 4 1/2, and 20 months old. They chose to hire a babysitter for the 20 month old. And they were glad they did. 
I will say Medieval Times is a little pricy. We chose to go 'all out' and do the VIP option which we thought was completely worth it, but the regular tickets would provide just as nice of an experience if you were needing to be a little more budget friendly.
The food was actually pretty good, but just remember there is no silverware given – you eat everything with your fingers or from the plate. So the soup you drink from the bowl, the baked potato you pick up and eat. This is one of the main reasons I'm glad we left the 2 year old at home. Also, the seats are normal chairs – we did not ask if there were booster seats or high-chairs, but I did not see anyone else using one.
I would highly recommend you take their advice on getting there early because the seat where you sit is given out based on when you get there. You can reserve the 'type' of seat (i.e. we reserved a VIP seat), but the 'quality' of seat you get is based on when you are in line to check-in.
You get a picture made as soon as you walk in (ours was made with the princess – I wish now we would have requested the sword in the stone which would have been more 'boyish'). After our picture we took the time to go to the gift shop and purchase a souvenir for the boys. I'm glad we did this before because it was pretty packed after the show. We were able to let them keep their souvenir swords on the floor under our chair during the show.
The show was very entertaining and kept both of my boys very engaged the entire time. It was such a pleasure to see the excitement and watch the experience through their eyes.
Overall, I am so pleased and impressed with our experience and felt it was money well spent. The boys are begging to go back again, but we will need to space the cost of this experience out by at least a year.
Location/Ticket Information:
Location: Atlanta Castle – 5900 Sugarloaf Pkwy Lawrenceville, GA
Tickets: $54.95 per adult and $36.95 for children 12 & under.

Note: There are a lot of different specials available as well. All seats $30 on Wednesday and Thursday; Free Royalty Upgrade; Summer Fun Savings Adults $35.95 and Kids $29.95 (everyday but Wednesday and Thursday due to previous special); and a Father's Day special where Dad is free 6/13-19.
Connect online with Medieval Times: