Life On The Road: Interviews With Grave Digger, Snow White & Anna
I realize that Grave Digger, Snow White & Elsa do not go together. But I interviewed both of them last week. And I heard a common theme so I figure hey, why not but them together. They both talked about their life on the road traveling to different cities to do shows with Monster Jam and Disney on Ice. Therein-lies the common ground.
Please keep in mind that my kids are huge fans of Monster Jam and Disney on Ice. Therefore, Finn (my 8 year old) came up with the questions for Adam  (Grave Digger) and Selah (my 5 year old) came up with the questions for Taylor (Snow White & Anna).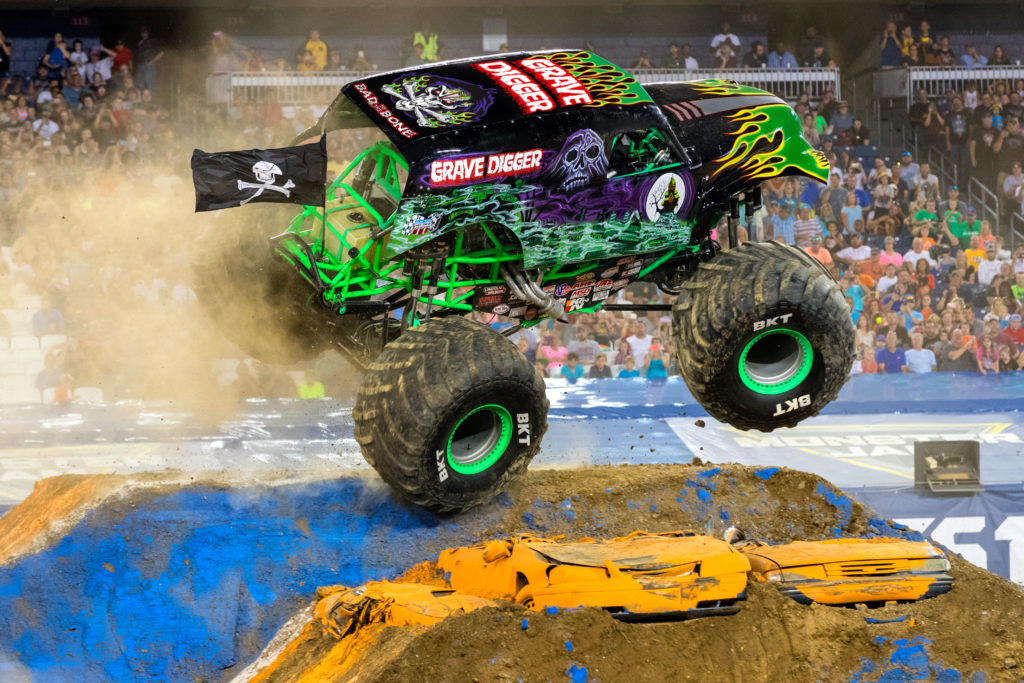 Interview with Adam Anderson, Grave Digger
How did you get into racing?
"I feel that I have been born and raised in it. My father created Grave Digger when I was a kid. After high school, I made the decision to go into racing. I was one of the youngest drivers. And honestly, I had to grow up pretty quick. I had to learn a lot of business stuff I wasn't anticipating on needing to learn."
How did end up driving Grave Digger?
"I drove other trucks first for around 2 years. That was my way of earning my keep. When a position became available to drive Grave Digger I said yes and was so thrilled for the opportunity."
Have you ever crashed? Were you hurt?
"I have definitely crashed a lot. Thankfully, I've never had any major injuries."
What is your favorite trick to do while driving Grave Digger?
"That's an easy one – I like when it looks like I'm going to crash or flip over but I recover or even keep it up standing on the side or back. It's a fun challenge!"
Do you ever get scared when doing jumps?
"I haven't been scared but I am aware of when I've made a bad decision or pushed myself too far before."
What's your favorite part of the show?
"Hands down – it is the pit party. I love getting to meet fans one on one. And seeing kids run up is a great feeling. It makes the personal connection with the fans real and I love that!"
How many competitions have you won?
"Would you believe me if I said I'm not quite sure of the exact number. I've won quite a few over my years. I know that 2 years ago I had my 100th racing win. So I'd say that would put me at about 120 wins."
Who is your favorite competitor?
"Max D! Neal Elliot is the toughest guys for me to beat."
What is your favorite city that you've traveled to?
"Home is always a nice place to be. For me, home is the Outer Banks of North Carolina. But I have loved all the major cities and Australia was really cool!"
What is one last thing you like to tell the person reading this article?
"If you have never been to a Monster Jam show, I highly recommend you get tickets and come to our show. It is a family-friendly event but also fun for a date too. Hope to see you there and don't forget to cheer me on!"
Monster Jam celebrates 25 years of monster trucks by touring across North America in 2018. Get tickets for the shows BEFORE they sell out — with no busy signals or waiting rooms!
Monster Jam will be at Mercedes-Benz Stadium on February 24-25th. Get your tickets today by clicking here!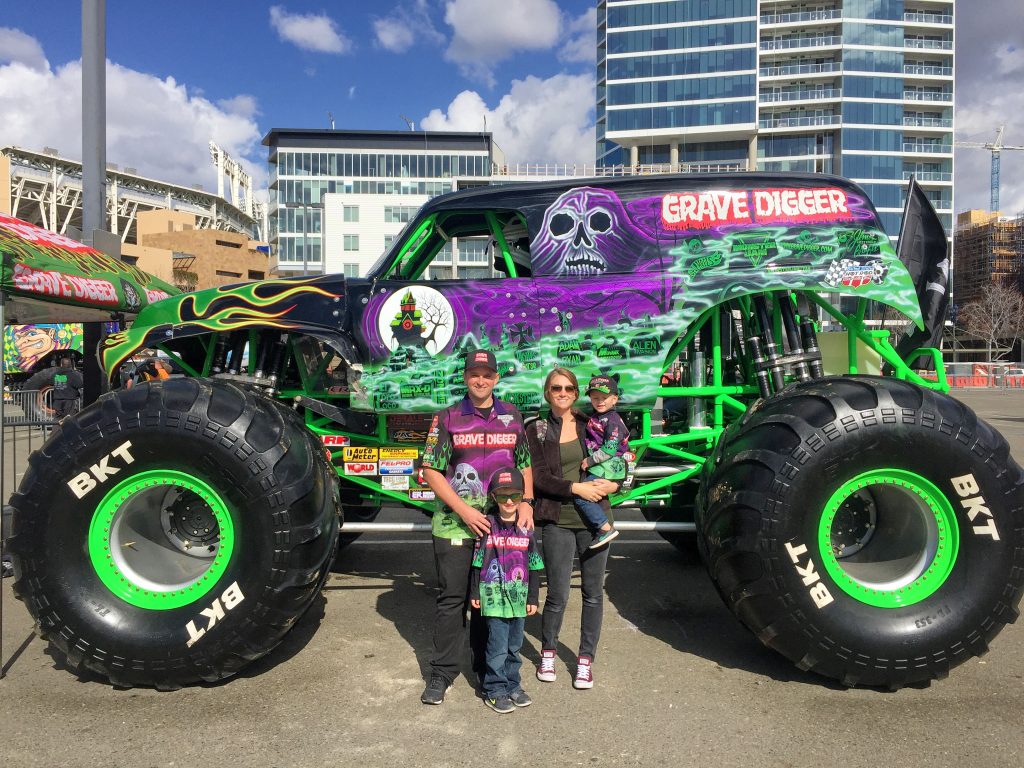 ---

Interview with Taylor Firth, Snow White & Anna
How did you start ice skating?
"Well, I have 3 sisters and we grew up in Western New York. Ice skating was popular there. I loved watched my older sister ice skate. I've been skating since I have 6 years old. "
How did you get to be with Disney on Ice?
"I first started with competitions and I was known for the way I expressed myself. My first big break was when I was scouted for a part in the movie 'Ice Castles.' And to my surprise, I got the part. I loved putting together acting and ice skating. After that things just fell into place. And I was offered an opportunity to be part of Disney on Ice."
Have you only skated as Snow White & Anna?
"Actually, I have ice skated as many different characters. When I first started, I was Jessie from 'Toy Story.' Then I played Merida from 'Brave.' And now I'm on my 2nd year as Anna and my first year as Snow White."
Do you have a favorite city you have visited?
"That is a really hard question to answer because I have loved traveling to so many different places. In the United States, I have enjoyed the Pacific NW and Seattle. Worldwide, I'd have to say Barcelona was my favorite."
Do you have a favorite costume in the show?
"Yes I do! I loved my Jessie outfit because it was pants and very comfortable. And my second favorite was Merida because I loved having long curly hair."
Do you have a favorite part of the show?
"Absolutely! My favorite part is the scene where Anna & Elsa meet at the top of the ice castle. This is where you see the strong bond between the sisters. And honestly, it reminds me so much of the bond I have with my sisters."
Anything else you'd like to share?
"Yes – our show is not just for girls. It is for boys too! We have scenes from Aladdin, Finding Dory, Snow White, Lion King, Toy Story & more. There is something for everyone in our show. Tons of fun and entertainment that will get you singing, laughing, and dancing right in your seat!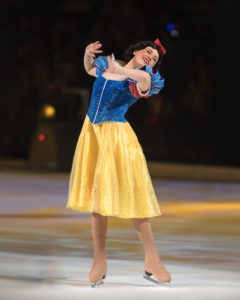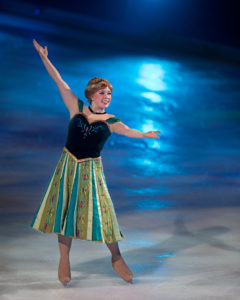 The Wonderful World of Disney on Ice has tickets on sale now for their Atlanta GA shows – February 15-19 at Philips Arena & February 22-25 at Infinite Energy Center. Buy your tickets online here.