Library Hosts Free Holiday Events For Families
Escape the hustle and bustle of holiday preparations and enjoy some time with the family at your local library. Throughout the month of December, Forsyth County Public Library will host free holiday-themed storytimes, movies, craft sessions, and activities for patrons of all ages.
Sensitive Santa


"Sitting on Santa's lap can be uncomfortable or scary for children with special needs, as well as frustrating for their parents who just want to give their child a positive experience with such a beloved part of the holiday season," says Program Manager Laura Bradley. "This is the third year we're offering Sensitive Santa events where the lights are dim, voices are quiet, and children can enjoy a visit with Santa at a slower pace."
Parents or caregivers may take as many photos of their child with Santa as they like. Advance registration is required to participate. Events will be held on Saturday, December 10 starting at 10:30 a.m. at the Cumming Library and at 2:00 p.m. at the Hampton Park Library. The program will be hosted at the Post Road Library on Sunday, December 18 starting at
1:45 p.m. Please visit the library's website to learn more about these special programs and about how to register to attend.
Special Character Visit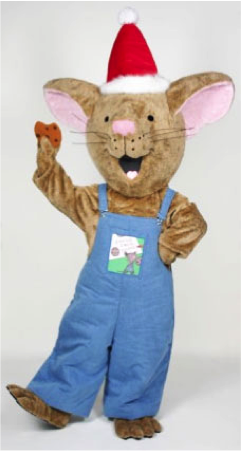 Fans of Laura Numeroff's If You Give a Mouse a Cookie can meet Cookie Mouse at a series of special events promoting the library's 1,000 Books Before Kindergarten program.
Listen to holiday stories, sing, dance, make a special Cookie Mouse craft, and take a picture with Cookie Mouse on Thursday, December 8 at 6:30 p.m. at the Cumming Library and on Thursday, December 15 at 11:15 a.m. and 1:15 p.m. at the Hampton Park Library. The Post Road Library will host events on Friday, December 9 at 11:15 a.m. and 1:15 p.m. and Saturday, December 10 at 11:15 a.m.
"The 1,000 Books Before Kindergarten program helps parents understand the importance of reading aloud with children from birth to age five," explains Bradley. "The library offers special recognition to children as they meet 100-book milestones on their way to reading 1,000 books to encourage their language development and to foster a love of reading."
Popular Polar Express Story Times Return



The Polar Express by Chris Van Allsburg is a favorite holiday story and the library will host several events to get families into the spirit of the season. Children are invited to wear their pajamas and listen to The Polar Express and make crafts. A special visitor from the North Pole may also stop by! This program is sponsored by the FCPL Friends & Advocates.
The Polar Express story times will be held at the Hampton Park Library on Tuesdays, December 6 and 13 at 6:00 p.m, at the Post Road Library on Monday, December 12 at 6:30 p.m. and Saturday, December 17 at 11:15 a.m., 1:15 p.m., and 3:15 p.m., and at the Cumming Library on Monday, December 5 at 6:30 p.m. and Wednesday, December 14 at 4:00 p.m. and 6:30 p.m.
For more information on these and other December events at the library, please visit www.forsythpl.org.