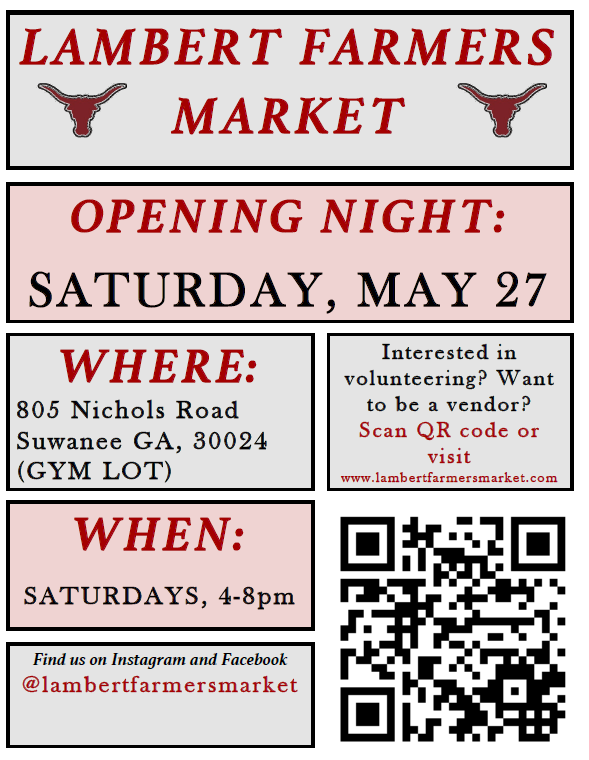 Lambert High School rising seniors Julia Ciaccia and Alex Ruano saw a need in Forsyth County, and decided to do something about it.
"Since the Brookwood Farmers Market at Caney Park ended in 2015, I feel like we really missed that event in our community. Considering the access to local goods, opportunity for area small businesses, and the community building, I thought it was worth trying to bring something back to our area."
Working under the auspices of the Lambert High School Beta Club, Julia and Alex have reached out and secured local vendors to be part of the Lambert Farmers Market Grand Opening on Saturday May 27th. Twenty or more local artisans and businesses will have their food and products for sale.
"We'll have a nice array of products available, from Forsyth County favorite Shane's Rib Shack, to local honey and award-winning hand-made sauces and much more. It's a little early in the season for Georgia produce, but we'll be adding more and more as we go through the summer. We're still adding vendors at the 11th hour and have a little more vendor space available, so I'm sure we'll have some good surprises."
The Lambert Farmers Market will take place on the grounds of Lambert High School, at 805 Nichols Rd, Suwanee GA 30024. The event will take place from 4pm to 8pm every Saturday, through October 28. More information, including vendor sign-up, is available on the website.
Connect Online with Lambert Farmers Market: Website | Facebook | Instagram
The Lambert Farmers Market is on of our list of farmer markets in Forsyth County. To see the full list, click here.