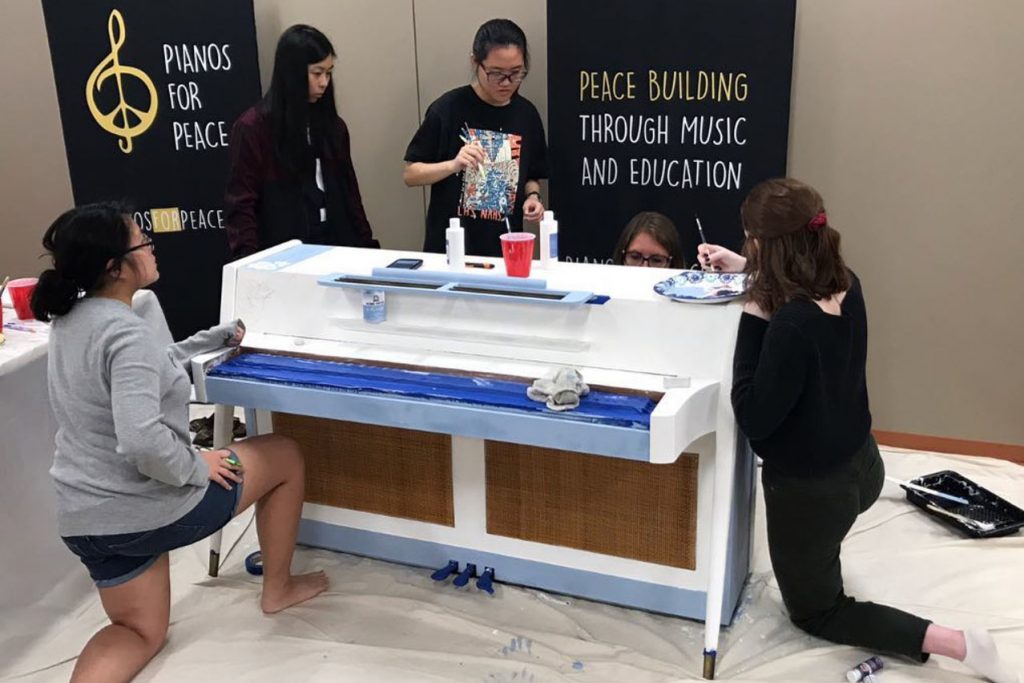 A beautifully and uniquely painted piano will be unveiled at the Sharon Forks Library on Saturday, September 1 as part of the Pianos for Peace Festival, an annual community arts program based in Atlanta.
The piano was provided to the library by Pianos for Peace, a non-profit organization founded by composer and pianist Malek Jandali to build peace through music, arts, and education.
Student volunteers from the National Art Honor Society at Lambert High School created and executed the painting and decoration of the piano for the Sharon Forks Library. The design theme is Flowering Voices. The beauty of music is universal, appreciated by both nature and humankind.
"We're excited to be involved in one of Atlanta's largest public art projects and to be able to share this experience of art and music with our patrons," says Sharon Forks Library branch manager Mendy Gunter.
The library is one of three Pianos for Peace locations in Forsyth County and its piano will be on display and available for visitors to play in Meeting Room A of the Sharon Forks Library through the end of the Festival on September 22. The other two pianos are on display and may be played at The Collection at Forsyth and Lambert High School.
Following its public display, Gunter says the piano will be donated to a school in Forsyth County.
"Part of the Pianos for Peace mission is to make art and music accessible to the community as a whole. All of the pianos in the Festival will be donated to local schools, nursing homes, healthcare facilities, and community centers. We're so pleased that our piano will find a home in the music program at Little Mill Middle School," Gunter explains.
This year, the Pianos for Peace Festival will include 50 pianos that will be seen and heard by about half a million residents and visitors to venues such as Piedmont Park, Georgia Tech, Hartsfield Jackson Atlanta Airport, and the Center for Civil and Human Rights. Several performances, guest lectures, and special presentations are scheduled in venues all around Atlanta through the duration of the Pianos for Peace Festival. Two such programs will be held at the Sharon Forks Library.
The Chamber Orchestra from Lambert High School will appear in concert at 7:00 p.m. on Tuesday, September 11. The founder of Pianos for Peace will also speak and perform during this free concert. The event is open to the public and is appropriate for all ages.
On Wednesday, September 19 at 7:00 p.m., Dr. Andrea Pérez Mukdsi, Assistant Professor of Spanish at the University of North Georgia, will give a special presentation on the West-Eastern Divan Orchestra, a youth orchestra based in Seville, Spain consisting of musicians of from all across the Middle East with the goal of promoting a peaceful co-existence between Israelis and Palestinians. The presentation is intended for adults and teens and admission is free.
Further information about other pianos in the Festival is available at PianosForPeace.org and on the free Pianos for Peace app available for both iPhone and Android devices. For more information on the library's piano, stop by the Sharon Forks Library.