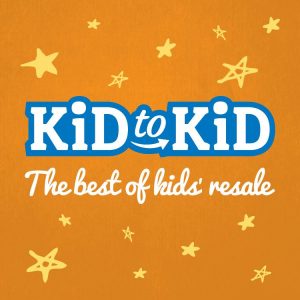 Kid to Kid Cumming Pays Cash for Kid's Items!
Ok parents – let's be real with one another. You know you have some clothes in a bag somewhere that are in good condition but they are collecting dust. And you know that playroom needs to be cleaned out. I know I have toys that my kids don't play with anymore and they are still in good condition. Well, how would you like to be paid CASH for those items? I think we can all agree with a resounding – YES!
Kid to Kid Cumming pays cash for items that are in good condition. When I say items – I mean clothes, toys, pack n' plays, high chairs, and much more! They will even pay you for maternity clothes! And then as far as kid's clothes goes, they accept all seasons – Fall, Winter, Spring & Summer!
So what are you waiting for? Take some time and get those items in your car and head up to KiD to KiD today.


How to sell your items:
It's as easy as 1-2-3!
Bring in your outgrown kids and maternity stuff. To see a list of all the items they will buy, click here.
Shop smart while a buyer appraises your items. This process typically takes about 30 minutes – 1 hour. Please note: during busy times it could be longer. The store associate will always let you know an estimated wait-time.
Get paid cash or credit right on the spot. Once you receive an offer for they items we've selected, collect your cash or get paid 20% more than our cash offer by choosing store credit that can be used at KiD to KiD or Uptown Cheapskate. Also, consider donating any leftover items to a local charity with no extra effort.
The most needed items right now are:
Boys clothes size 3 to 8
The best of all seasons High chairs & Pack 'N Plays Toys, books & puzzles
Maternity fashions
Walkers & play centers Shoes, boots & dress shoes
Events or Specials Coming Up:
Our Partnership With BuildOn: For the month of October, if the customer decides to donate the items we are not able to accept, we donate their items to BuildOn. And the customer gets a $10 bag (regularly $15) and 15% off to use on our Charity Fill-A-Bag day.
Charity Fill-A-Bag: On Saturday, November 5th KiD to KiD holds a very large sale day where customers can purchase a bag for $15 and fill it with as many donated items as they want. The money raised benefits BuildOn.
To read more about the impact of this event, click here.
Black Friday Sale: Stay tuned for more information on this!
Connect with KiD to KiD:
Online: Website | Facebook
Address: 511 Lakeland Plaza, Cumming 30040 Phone: 770.888.8500
Store Hours:
Monday through Saturday: 9am-9pm
Sunday: 12pm-7pm