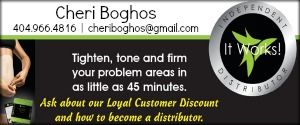 It Works Giveaway
UPDATE:  This giveaway is now closed.  Winners, Trina & Tina, were both selected via Random.org and have been notified via email.  Thank you for all entering. 
Ladies – this one's for us!!  Well not really us, because sadly I'm never eligible for our own giveaways – ha!  And it's not really JUST for you because men could very well like this too!!
I'm so excited to be working with one of our current website sponsors – Cheri Boghos – Independent Distributor for It Works!  Through conversation, we found out we go to the same church, drive the same car, and both have daughters named Megan.  We're meant to be friends!!
She started telling me about the It Works!  business.  I admit, I was skeptical at first, but I'm hearing more and more about this brand.  And I've been hearing from normal, every-day women (girlfriends in fact) that it really does work!
The brand is designed to "tighten, tone and firm problem areas in as little as 45 minutes".  The before and after pictures are definitely cool!  And definitely making me want to order a wrap!!


It Works Giveaway:
But what's better than ordering a wrap?  WINNING a wrap!!!  Cheri is giving TWO lucky Cumming Local readers a FREE wrap and appointment!!  This is so exciting – the timing is perfect and I can't wait to see who wins.
To enter:
Simply comment below.  We won't make you get too personal, but maybe share why you want to try a wrap – is it for your stomach?  Your legs?  I think I'd want to try it all over!!!
If you don't win?
Be sure to visit Cheri's shop online.  I was just checking out packages and the basic wraps seemed very reasonable.  So if you don't win, it still might be something you're interested in especially for the summer time months!!
Connect with Cheri Boghos of It Works!
Visit Cheri's shop Online
Contact Cheri Boghos with It Works!
Disclosure Statement:  It Works!  by Independent Consultant Cheri Boghos is a current website sponsor of Cumming Local[ however, all opinions are my own.
Giveaway Disclosure (The Quick Version):   Giveaway will close on Thursday, May 30, 2013 at Midnight EST. One winner will be selected from all entries and selected via Random.org. Winner(s) will be notified via email & have 24 hours from time of notification to submit their mailing address.
Disclosure (The Longer Read): While this giveaway is being promoted on Facebook, it is in no way associated with, sponsored, endorsed or administered by Facebook. By entering this giveaway, you acknowledge this and release Facebook from any responsibility of such. Furthermore, you acknowledge that any information provided for entry is being provided to Cumming Local and not to Facebook. No Purchase necessary. Giveaway open to all residents, 18 years of age or older, in the US (although it makes most sense to enter if you're in the Atlanta area where prize is available for redemption).  This giveaway opens at time of publish and closes Thursday, May 30th, Midnight EST.  Entry is only accepted via the forms listed above (completion of tasks & entry of comment on this post). Prize is valued at less than $500. The number of eligible entries received determines the odds of winning. Winner(s) will be selected via Random.org and notified via email. Winner will have 24 hours to claim their prize & provide a mailing address for shipment. If unclaimed, a new winner will be selected in the same manner. By submission of an entry, reader acknowledges that they are 18 years of age or older and also grants Cumming Local the right to use their name in a winner's announcement, if applicable. By submission of entry, reader agrees to hold Cumming Local harmless in the event that the prize in some way negatively impacts the winner. Giveaway hosted by Cumming Local, LLC PO Box 972, Cumming GA 30028. Void where prohibited by law.