How to Surprise Your Loved Ones with a Trip this Holiday
It's Christmas morning. The kids run to open the gift you've left for them under the tree. And their eyes sparkle as they realize it's exactly the thing they asked for! Success! All the price matching, parking lot navigating, crowd fighting, and box wrapping was completely worth it!
Fast forward 6 months . . . you find their Christmas treasure under their bed, broken and forgotten.
After repeating this year after year, it's understandable that parents start to get disillusioned about the value of gifting their kids' wishes at the holidays. There must be another way to make the holidays special and memorable.
Here's an idea: gift your family with a fun trip this holiday. Laughing and learning together, experiencing new things, are great gifts to your children. A trip will give your family the opportunity to create lifelong memories together. And better yet surprise your loved ones with a trip this holiday season!
Giving a trip to your family is so easy. Follow these four simple steps over the coming weeks to check this off your holiday shopping list:
Consider where you'd like to go.
Is there a place you've always wanted to show your family? Do they have hobbies that could be developed at a certain place? Have they really enjoyed a certain unit in Social Studies about a place you could visit? Are they really into a certain movie or YouTube channel? Considering a trip from the kids' point of view can open up new and different destination options.
Determine a budget and time of year.
When thinking about your budget, consider how much you would usually spend for holiday gifting. Also, think about the cost of your typical family vacation. Then develop a price range that you're comfortable with.
Many families are tied to the school calendar when they consider when to travel. In Forsyth County, Fall Break in September is a gift to families looking to travel off season. A long weekend over President's Day is also a good option for Forsyth County families. Of course, if your family isn't tied to the school calendar, consider traveling at a time when others will be in class.
Call a travel agent.
A good travel agent will be able to take all your thoughts and considerations and help you shape them into a great trip, often at no additional cost to you. Some agents specialize in a particular destination, while others offer general assistance with the travel industry. Not sure who to call? Look for agents in your community who will understand specifics of your local needs.
**Need an agent who specializes in Disney and Universal destinations? Email me at jessica@travelmation.net.**
Present the gift.
It's still fun to have that Christmas-morning moment, so presenting the gift to your family can be very exciting.
Purchase something that will be used on the trip and wrap it for the big reveal. Ask your travel agent if your destination offers a special way to let the family know about the big trip.
If your trip is more than a couple weeks in the future, wrap a paper chain countdown to help keep the excitement for the trip alive. Hang the chain some place where everyone will see it and every day tear off one link in the chain until it's time for your trip.
Tie a postcard to the string of a helium balloon, and then wrap the balloon in a big box. When the kids open the box, the balloon will float out and the card will show them where they're going.
---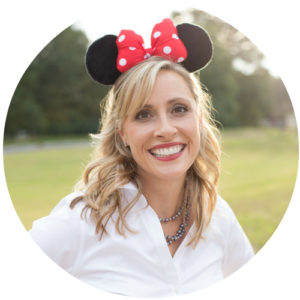 As an Authorized Disney Travel Planner, and a mom to two tween boys, Jessica has fully experienced every thrill attraction and enjoyed everything Star Wars at Walt Disney World. She knows how to save the day with the Marvel heroes at Disneyland. And she knows the award-winning service and relaxed fun aboard the Disney Cruise Line. Plus, outside of Disney destinations, she's even cast a magical spell with Harry Potter in Universal Studios. And she loves helping other families create magical memories of their own.
Need an agent who specializes in Disney and Universal destinations? Email me at jessica@travelmation.net.