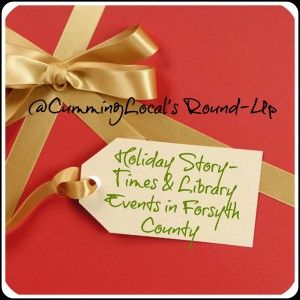 Holiday Story-Times and Library Events in Forsyth County
Don't want to miss a holiday story-time and event in Forsyth County this year? There are so many great story-times going on over the next few weeks and we don't want you to miss them either. So we have compiled a round-up of all the story-times and library events here in Forsyth & Cumming GA.
Don't forget that you can see all of these events and more on our calendar.
Forsyth County Library Story-Times & Events:
These are listed in no particular order. But I did try to sort them by date. PLease be sure to check with the location before headed up. Also be aware that some of these events require registration.
Polar Express PJ Party


Head to the library for Polar Express-themed fun,including crafts, snacks, and stories for the whole family. All ages. Click here to register. Don't forget to wear your PJs!
Sharon Forks Library – December 9 at 6:30 p.m.
Cumming Library – December 12 at 6:30 p.m.
Hampton Park Library – December 17 at 6:30 p.m.
Post Road Library – December 18 at 4:30 p.m. and 6:30 p.m.
Tis the Season for Stories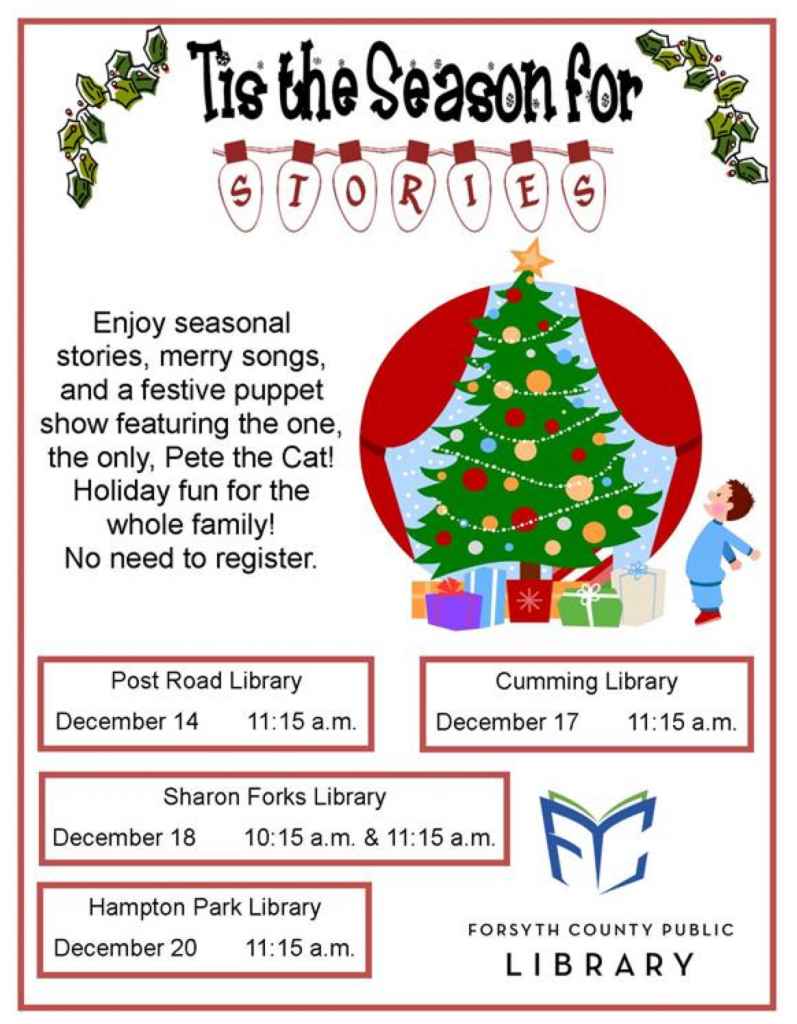 Post Road, Cumming, Sharon Forks, and Hampton Park Library will be having holiday themed story-times starting on December 14th. Each location has different dates/times. For more information visit the Forsyth County Library website here.
Special Holiday Cinema Events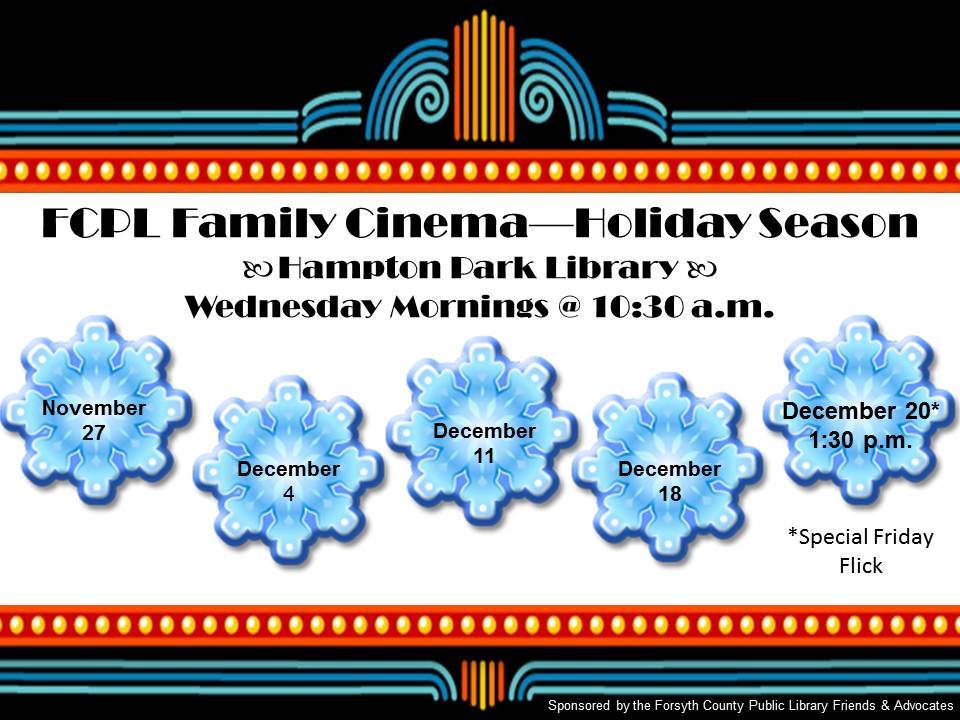 Enjoy a special holiday cinema movie for the family – Wednesdays at Hampton Park Library at 10:30am.  A special Friday showing on December 20th.  For more information about movies and events, click here.
Craft a Gift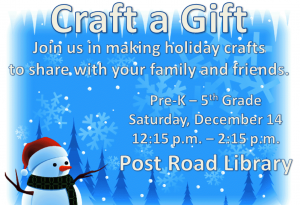 Post Road Library is hosting a craft a gift event. You do need to register for the event. It is for children Pre-K to 5th grade. Click here for more information and also to register. You can also register by calling 770-781-9840.
Create and Give Holiday Gifts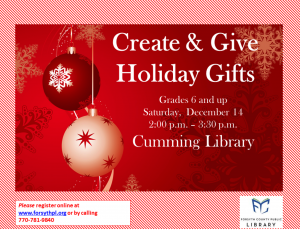 Cumming Library is hosting a teen crafting event on Saturday, December 14th from 2:00-3:30 pm. This event is for grades 6 and up. You do need to register for this event. You can either do that online by clicking here or calling 770-781-9840.
Gingerbread Architecture for Teens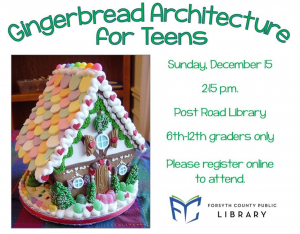 The Post Road Library is hosting a Gingerbread Architecture event for teenagers on Sunday December 15th. You will need to register online. You can do that by clicking here.
Gingerbread Construct-O-Party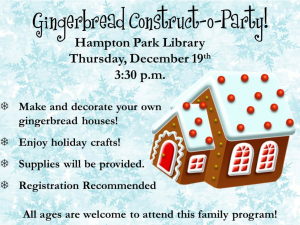 Hampton Park is having an event to construct Gingerbread Houses on Thursday December 19th. You do need to register. You can do that by clicking here.
Barnes & Noble Story-Times
All of these times/dates are for the Collection (Forsyth) location. For more details about any of the times/dates – click here to go to the Barnes & Noble website. 
Friday, December 6th – Polar Express special event at 7:00 pm
Saturday, December 7th – Frozen: A Sister More Like Me story-time
Tuesday, December 10th – Snow: Winter is For Snow story-time
Saturday, December 14th – Frosty the Snowman story-time
If you are looking for more Christmas fun – click here to see all the 2013 Christmas activities in Forsyth County.