The following is a guest post by Victoria of Green Plate Rule.  On her site, she offers great recipes & practical ways for families to eat clean & drink green through her Clean Eating Recipes, Gluten-Free Fridays, and Smoothie Saturday posts.  She lives locally with her family & is also a very active member of Team Dutch Monkey – Fighting Blood Cancer.
Healthy Halloween Foods:  Round-Up by Green Plate Rule
Are you looking for ways to make Halloween a little healthier this year?  But definitely not any less fun?  Victoria's come up with a perfect round-up to help us all get started.  I love how great all these ideas are.  They will definitely pass the fun test!


Most Halloween inspired food I see uses candy filled with artificial ingredients, food dyes, or other heavily processed items from the store.  With lots of school and neighborhood Halloween parties coming up, I have been searching for healthy Halloween food to serve the kids.  Most of these ideas are from my KIDS: Food Pinterest page.
I love these banana ghost pops from Skinny Taste.  I made these for my girls using greek yogurt, in place of white chocolate, and then sprinkled shredded coconut over them.  They were a huge hit!  I also used peanut butter with coconut, which worked great, as well.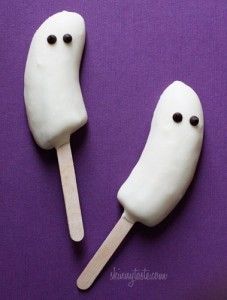 Read More …
To see Victoria's other great picks, click here for her full article on Healthy Halloween Ideas for Kids.  I can't wait to try several of these with my family this year!