The following is a guest post by Cumming Local Mom Contributor, Rachael.  With Christmas being just TWO months away (sorry for the reminder!!), this is perfect timing for gathering supplies and putting this on the To-Do List.

Gifts for Dad or Grandpa

Whenever a birthday or Christmas comes around, I usually have no problem coming up with a gift. Unless it's my dad, grandpa, or husband. Men! Why are they so hard to shop for? Well, about a year ago – I decided to make gifts for them instead. I was done with buying giftcards, books, or ties!
My favorite craft so far has been a stepping-stone. They are so easy to make. And it's awesome to add on to their collection each year. You can by a kit to make them at Michael's. Or you can make them my way. Either way – it makes a great sentimental gift!
Supplies:
Water
Cement/Water (follow directions – I like Quikcrete mortar mix the best)
Rubber pan (any shape – circle, square, etc) or an aluminum pie pan
Pieces of stained glass (you can get these for free a lot of times at glass businesses or cheaply at any craft store)
Marbles or other décor
Lettering stamps
Step 1:
Mix the cement with water
Step 2:
Let it dry for about 30 minutes
Step 3:
Decorate however with the stained glass. Make sure to press them down so they are level with the cement.  You can also use the lettering stamps to write something on the stone.
Step 4:
Let the creation dry overnight. The next day you can take a wet cloth and wipe off the stones so they are clean.
Step 5:
You can go ahead and take the stepping stone out and now you have a perfect homemade gift!
Connect with Rachael: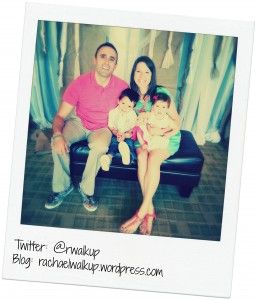 Rachael is local Mom, Cumming Resident and author of the blog, Confessions of a Mom on a Tight Rope.
Rachael has been with her husband for 8 years and has two children. She loves to write, spend time with family, and serve others. The most random thing she's ever done was having the dead skin eaten off her feet by fish in Cambodia!!

Follow her blog, Confessions of a Mom on a Tight Rope.
Follow Rachael on Twitter: @rwalkup