The following is a Guest Post by Contributing Writer, Heather Clark.  Ms. Clark is the Director for Act Together Ministries in South Forsyth County.
Hello Forsyth Friends,
I'm excited to be joining Cumming Local as a contributing writer. My passion is to raise awareness and unite the community to meet the needs of children in distress. I work with Act Together Ministries located in South Forsyth (serving 5 metro Atlanta counties.) Act Together offers services and programs to foster children, military children, children in single parent homes, special needs children and children living in poverty. We offer essentials such as food, clothing and school supplies to growing children. We provide birthday and Christmas sponsorships as well as scholarships to sports and extracurricular activities. This fall we will kick off a new program called "I CA+N." This program will offer rewards and incentives to encourage the children to succeed in school and make the most the of their education.


Our next big event is Tools 4 School scheduled for Sunday July 31st at 1PM at Christ the Shepherd Lutheran Church in Alpharetta. There are many opportunities to get your whole family involved in serving.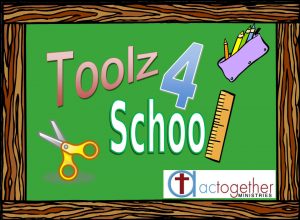 We also need your help collecting school supplies for all of these little ones! Watch for the back to school sales and pick up some extra school supplies for children in need. There are multiple drop off locations throughout Forsyth county: Lakeside Realty in Cumming, Crooked Creek Storage in Alpharetta, Rita's Italian Ice in Alpharetta, Victoria's Children's Boutique in Cumming, and Grace Fellowship Church in Cumming.
We are also partnering with Cumming Local to collect school supplies at Menchie's at the Cumming Marketplace from 12-3PM on Thursday, July 28th. Drop by and enjoy 20% off of a frozen yogurt. Other cool prizes will be given away!  (Register Here)
Spread the word and help us "act together" to meet the needs of children in distress. Hair stylists are needed to cut the children's hair, doctors and dentists are needed to provide school screenings and sports physicals to the children. Volunteers are needed to serve food, play with the kids, run the distribution "store", help at the sign in table and much more. Come serve children in need and grow as a family at the same time.
Give. Build. Inspire!
Stay connected with Heather:

Blog – http://blog.actogetherministries.org
Online – www.actogetherministries.org
Facebook – www.facebook.com/actogether
Twitter – www.twitter.com/actogether
Linkedin – www.linkedin.com/… Heather Clark