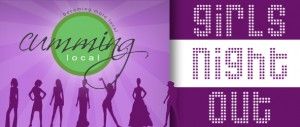 Girl's Night Out at Glazed & Fired

Last week, we packed out Glazed & Fired for a Girl's Night Out Event – filled with painting, food, fun, giveaways, and more!  Glazed & Fired is such a perfect place to host a GNO event.  It spurs creativity & fun … and a little nervousness too when you're trying to make your painting look like the instructors!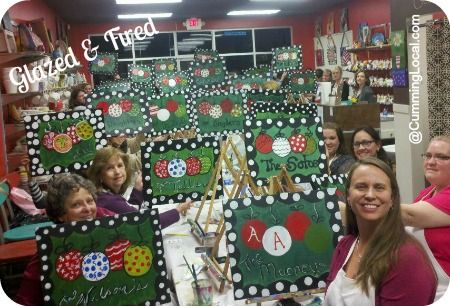 But Glazed & Fired is also the perfect place to host a GNO event because owners Suzanna & Debbie, along with artist Jeanne, are just so gracious & kind to help make your private event perfect!  I truly love working with them.  With just a small group of 8 or more you can host your next birthday party, work party or social club event at Glazed & Fired too.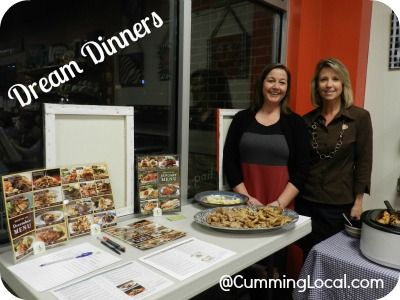 And thanks to sponsors, Dream Dinners of Cumming, we ate very well!  They had three entrees for us to sample, along with cookies & sweets as well.  Many of our attendees hadn't heard of Dream Dinners yet, if you haven't either then you need to take a minute to see how they can help your family.  If you can give an hour in their store, you'll save hours in your own kitchen!!  They offer meal preparation – simply visit their website, select entrees from their current menu, pick a date to visit their store & assemble your meals!  You'll leave with dinners ready for your freezer so when the dreaded "Mom, what's for dinner" question comes up … you'll be ready!
And more exciting news – Dream Dinners of Cumming will be our first GNO host for 2013!!  We'll be there in January – date & more details to come very, very soon!
Sponsor Thank Yous:
Our events are not possible without our GNO Sponsors.  If some of these are new-to-you businesses, please take just a second to click on the business name link and you can learn more about them, even "like" them on Facebook. You know we all love to be liked!!


Keepsake Boutique – Hopefully you've heard me mention one of our newest website sponsors – Keepsake Boutique. It's a great little shop in South Forsyth across from the Midway Meal House. The boutique is full of great clothing and accessories and all at really reasonable prices! Stop in & you might just find the perfect holiday dress!  Plus going on now, if you stop in their retail store you can enter a giveaway for FLOOR tickets to the upcoming Carrie Underwood concert.



Good Grub Subs – A fantastic sandwich shop specializing in soups, salads, wraps, and plenty of gluten free options! They offer Kids Eat Free on Thursday nights of each week and are open Monday – Saturday. And don't forget Good Grub Subs also offers catering!  Perfect for holiday parties & events.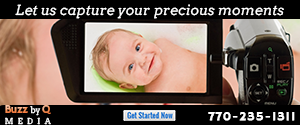 Buzz by Q – I'm really excited to learn about and also introduce to you, Buzz by Q. A locally owned company offering high quality cinema-style video production without the price tag of Hollywood production! This service could make a great gift for that hard to buy for grand-parent!!



Cumming Dance Academy – Excellent dance instruction and so much more from CDA! On a personal note, I'm thankful for the teachers, instruction & care that my daughter gets each week. If you're looking for a place for your son or daughter to enjoy and learn more about all forms of dance and performing arts, you should definitely inquire about CDA. If you're looking to register your son or daughter for the next semester, let me know – I have a few extra FREE Registration Coupons I would be happy to pass on to you!




Celebrating Home – Independent Consultant Louella Falge first introduced me to Celebrating Home – lovely gifts and unique finds for your home. Their catalog is full of great ideas & ways to decorate each room in the house! Host a Celebrating Home party in your house and earn while you share!!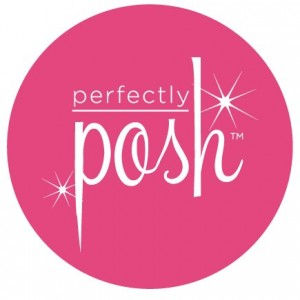 Perfectly Posh – This is a new brand to me, but definitely one worth checking out! The line is full of pampering products – all very reasonably priced and also offers posh parties at your home! Earn credits while your friends shop and enjoy a great night together.



The Epling-Mertz Team – The real estate market is changing! And if you have real estate questions or needs, Jamie Mertz is ready to help you sort them them all. Through our event swag bags, she is also introducing us to The Short Sale Ladies – same great team of ladies ready to assist you with all your short sale needs!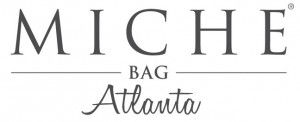 Miche Bag – Independent Consultant, Kellie Mattera shares the Miche brand with us. One purse, lots of possibilities! Whether you already love the Miche brand and need some new shells or you've never heard of it, Kellie is available to help you out!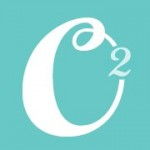 Origami Owl Custom Jewelry – This is another line that Kellie is sharing with us. I've only recently learned about this brand but I already have my eye on a few pieces! They bring the old "charm necklaces" (I had one, did you??) back into play but in a very cool way! I'm excited to share this brand with each of you!  And seriously – this makes grandmom's gift … done!! She would love this!
Don't Miss Our Next GNO

After a fun event, I always have ladies email, Facebook or stop me & say … "I'm not going to miss the next one".  So don't!!  Details will be released very soon.  Look for an end of January date to visit our new friends at Dream Dinners of Cumming!  They'll help us prepare a few meals and we'll have fun while we do it!
Make sure you subscribe to our Email Newsletter so you don't miss the announcement!