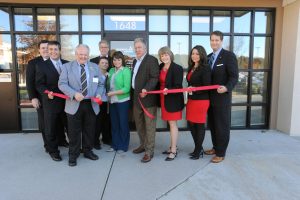 Georgia Power Opens New Cumming Business Office
ATLANTA – Nov. 19, 2015 – Georgia Power today hosted a ribbon cutting event to mark the opening of its new business office at 1648 Market Place Boulevard in Cumming. Georgia Power Region Manager Doug Jenkins and employees were joined by Cumming Mayor Ford Gravitt; Forsyth County Commission Chair Pete Amos; Georgia State Senator Michael Williams; Georgia State Rep. Sheri Gilligan and President and CEO of the Cumming-Forsyth Chamber of Commerce James McCoy.
The new office will serve thousands of Georgia Power customers in the area and offer a full suite of customer services including account management, bill payment assistance, metering services, energy efficiency advice and more. Georgia Power currently operates more than 130 local business offices in communities across the state as part of its commitment to providing exceptional customer service to 2.4 million customers.
Georgia Power's previous Cumming business office was located on North Main Street in Cumming and operated for 40 years, closing on October 30. Georgia Power relocated the office to its new location to improve convenience and access for local customers.
In addition to local business offices, Georgia Power serves customers through more than 2,600 authorized payment locations (APLs) throughout the state, over the phone and online every day. To locate a Georgia Power business office, APL, or access customer service 24 hours a day, visit www.GeorgiaPower.com.
About Georgia Power
Georgia Power is the largest subsidiary of Southern Company (NYSE: SO), one of the nation's largest generators of electricity. Value, Reliability, Customer Service and Stewardship are the cornerstones of the company's promise to 2.4 million customers in all but four of Georgia's 159 counties. Committed to delivering clean, safe, reliable and affordable energy at rates below the national average, Georgia Power maintains a diverse, innovative generation mix that includes nuclear, 21st century coal and natural gas, as well as renewables such as solar, hydroelectric and wind. Consistently recognized as a leader in customer service, Georgia Power was recently ranked highest in overall business customer satisfaction among large utilities in the South by J.D. Power and Associates. For more information, visit www.GeorgiaPower.com.
Connect with the company on social media: