The Forsyth County Relay for Life will be held this weekend – May 11th & 12th to benefit the American Cancer Society.  I (Mandi) am excited to be walking for the first time this year.  I'll walk in honor & in memory of my Aunt Sandy.
The following is a Guest Post from Maggie Paoletti.  I'm honored that Maggie is sharing her story with us.  I'm also teary-eyed from reading her words.  And she said she's not a writer, but I disagree!
My name is Maggie Paoletti and although I am a lot of different things, I am not a writer. The upcoming Relay For Life event will mark my 11th year participating. The significance of the event has changed for me over the years. Relay for Life is a great way to support the ongoing efforts of the American Cancer Society, to whom I owe my life.
In May of 2002 a dear friend approached me to ask a favor. I'm employed by Forsyth County Schools as an Instructional Technology Specialist and Lori McClure was confident that I had the skills to help her out. It was a week before Relay and Lori was tasked with collecting names for luminaries to honor cancer survivors and remember those people who had lost their battle with cancer. So what was it she needed from me? The names she gathered were supposed to scroll during the luminaria service. She wondered if I could find a way to make that happen. I willingly accepted and so began my journey with Relay for Life.
That first year I received the names a few at a time – a list here, a scrap of paper there, maybe an email or ten . . . but lo and behold I put together a scrolling of names and we were able to share those names during the luminaria service. My husband, Dale, and I attended that first year without knowing anything about Relay. We weren't aware of all the hard work and fund raising efforts, all designed to support the American Cancer Society. Time went by and each year Dale and I gained a better understanding of the purpose of Relay and I streamlined and "perfected" the process for scrolling the names during the luminaria service, which Felice Scholtes was now responsible for collecting.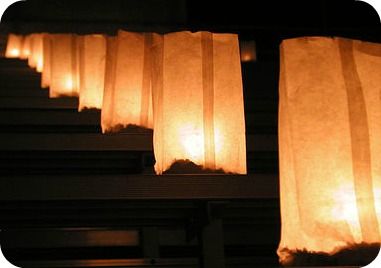 Then life as I knew it changed. In November of 2007 I was diagnosed with breast cancer. Through the extensive testing processes it was determined that I may also have had ovarian cancer, thankfully I did NOT! By the time we arrived at Relay for Life in 2008 I had been through 6 surgeries and two rounds of chemo. I had missed 9 weeks of work, but returned with determination. As I prepared the names for the luminaria service, it was difficult to see my name among them.
We arrived at the fairgrounds on Friday evening with all of the usual equipment: laptops, screens, projectors and speakers. I was told to report to the Survivor tent to get a shirt. Next to the shirts were stickers that said "Celebrating ___ years as a Survivor". I remember saying, "Well I don't feel like I've survived anything yet. I feel like I've been run over by a Mac truck!" I had called some friends, Greg and Clint, and warned them that they had better not show up with more hair than I had on my head – which was none!
Walking the Survivor lap with Dale was one of the most memorable events in my life. I was bald. My incisions were strained. My body ached with the side effects of Taxotere, Cytoxin, and Neulasta that I received just days before. My eyes were filled with tears. My heart was filled with gratitude and love. As we made our way around the track our eyes rested on all of the people who had helped and supported us through this journey. Being from Wisconsin our families were concerned that we were alone. We had assured them we were not alone. Looking around that track we realized that friends are the family you get to PICK and let me tell you, we have a LOT of FAMILY in Georgia.
Funds raised each year at Relay For Life are used by the American Cancer Society for research, development of treatments and support programs & services. Road to Recovery is a program designed to provide transportation to patients in need. Look Good, Feel Better is a program that provides women with tips, tricks, wigs and make up to help them through their treatments. The Hope Lodge in Atlanta is one of 31 facilities that are funded by the American Cancer Society. It is a place where cancer patients and their caregivers can find help and hope when home is far away from treatment. These are just a few of the ways your dollars make a difference. Please join us at Relay For Life – and I promise to wave at you during the Survivor Lap. Thanks to treatments developed with funding of the American Cancer Society, although I'm not a writer, I am a Survivor!
Thank you Maggie for allowing us to share your story with the Cumming Local Readers!