The following is a guest post written by Sarah – a resident of Cumming GA.  If you haven't taken advantage of any of the Forsyth County programs, you may be surprised to find out what all is actually offered – from group exercise classes to traditional sports & intramurals, swimming & more.
Lots to Take Advantage Of: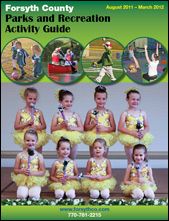 It's a new year and like many, your resolution may have included losing weight, getting in shape, getting active or nurturing your hobbies. The trick becomes fulfilling those goals economically. Let's face it, everyone is operating on a budget right now and looking cut corners. What if you could get exercise classes at an affordable cost and skip the costly gym memberships? That's exactly what the Forsyth County Parks and Recreation (www.forsythco.com) offers residents (and non-residents too!).
Group exercise classes are typically 8 week one-hour sessions (average cost per class is about $7/class!) with certified instructors, screened by the Forsyth County Parks and Recreation. Have a local friend that doesn't live in Forsyth County? Still encourage them to come (after all, they do recommend the buddy system for support and optimum results) as there is an increased cost for non-county residents (average cost per class is $8.25!). Not sure if you'll like a class? Pay the registration fee and attend the first session, prior to the second session you can request a 50% refund!
Traditional sports and intramurals are available for the whole family (youth and adults) as well as adult exercise classes, including cardio and toning workouts. Popular classes include Zumba, Yoga, Pilates and Spinning. Other offerings include martial arts, dance, gymnastics, special interests and art classes. After school programs are available and include adventure and nature programs in hiking, tree climbing and a tree top canopy walk at Sawnee Mountain Preserve.
Don't forget about the Aquatic Center! Opened in 2011, the facility houses a competition pool, instructional pool and leisure pool. Aquatic aerobic classes as well as swim lessons are available, in addition to CPR and lifeguard certification courses.
What about your gym membership? There is a fitness room and indoor track available at the Central Park Recreational Center. Amenities include two basketball gymnasiums, treadmills, stationary bikes, elliptical machines and weight machines, as well as locker rooms. Membership fees are as $40 for three months or $5 per visit. Two new recreational centers are scheduled to open mid-February (specific dates have not yet been released) at Fowler Park and off Nichols Road across from Lambert High School. These two facilities will also offer gym memberships and the above detailed classes.
The Forsyth County Parks and Recreation (www.forsythco.com) offers an exceptional deal with very minimal risk. Make 2012 the year you get to know your local park and realize just how much you've been missing!
**Updated seasonally, current activity guides and registration forms can be picked up at the offices at Central Park or viewed online by following the Activity Guide link on Central Park's website.