Forsyth Central to Host County Marching Band Exhibition
The five marching bands from Forsyth County's high schools will perform in Cumming on Monday, October 14th, in the Forsyth County Marching Band Exhibition. Hosted by the Forsyth Central Flash of Crimson Marching Band, the event begins at 7 P.M. at the FCHS stadium located at 520 Tribble Gap Road. Admission is $4 per person and middle school band students who wear school band shirts are admitted free.  Children 4 and under are free when accompanied by a parent. Food, drinks, and snacks will be available for purchase as well as goods from several local vendors.  Friends, family, and the community are welcome to come out and support the local band programs across Forsyth.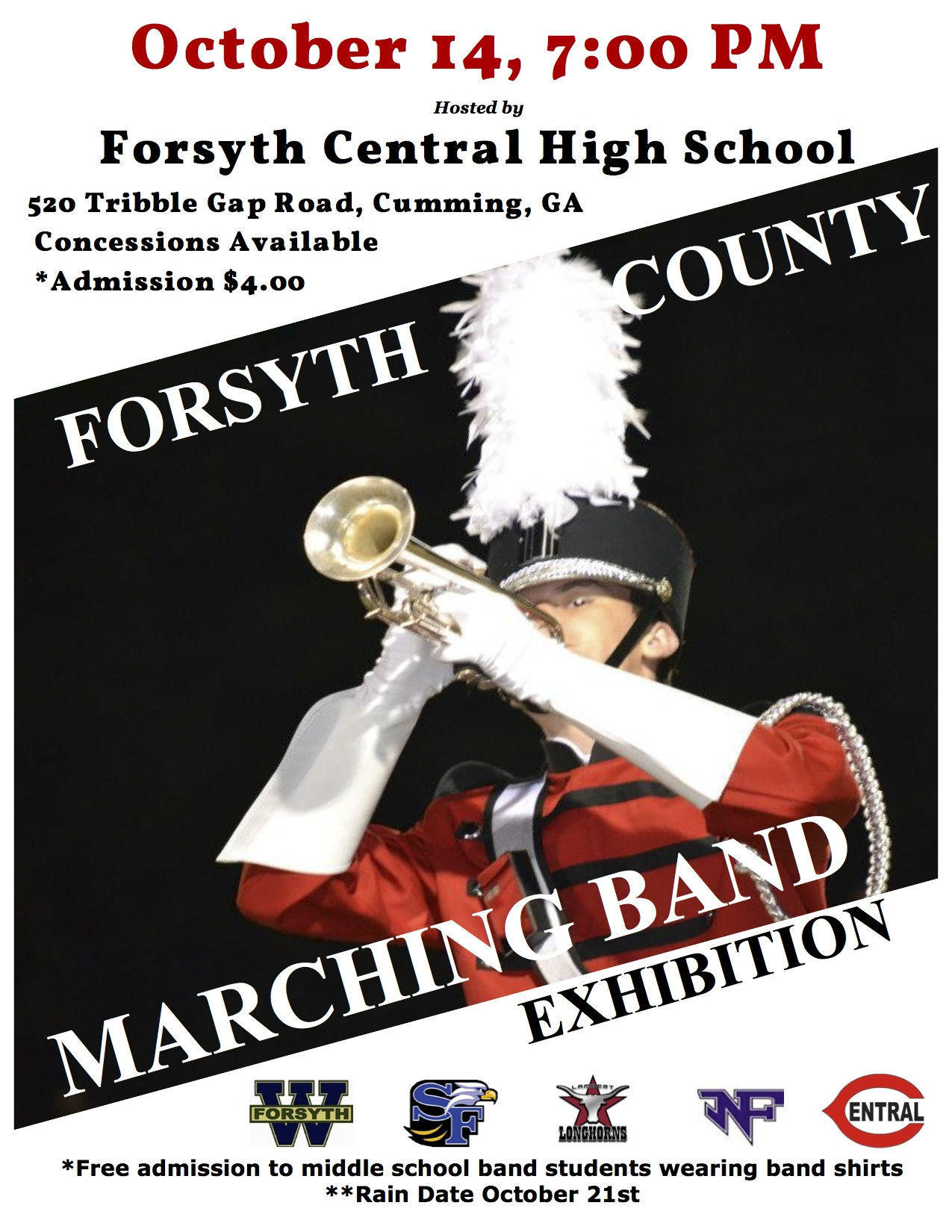 The annual event has become a tradition for the high school marching bands in the area. Featuring performances from the South Forsyth High School Marching War Eagles, the North Forsyth Raider Marching Band, the West Forsyth High School Wolverine Band, the Lambert Stampede Marching Band, and the Forsyth Central Flash of Crimson Marching Band, the event will showcase the efforts and talents of the more than 700 students who participate in the music program countywide.
The exhibition is a chance for students to come together and celebrate the hard work that has taken place since the beginning of summer. While the bands have all been working to entertain the crowds during football season, the competitive marching season is about to begin, with each band preparing for two to four local and regional competitions. However, this night is not a competition, but rather a night to cheer for every kid who has worked hard to earn the privilege of wearing a marching band uniform.
In addition, the exhibition provides middle school students an opportunity to see what high school bands are doing.  "For me, the marching band exhibition is a great way to see everybody's marching show in a relaxed and fun environment.  It's a great way for the students to see a wide variety of shows, styles, and techniques," says Tom Tucker, band director of the Forsyth Central Flash of Crimson.

   In the event of rain, the exhibition will be postponed until October 21st.