From Superheroes action camp to Beauty & the Beast musical theatre camp, every child can boost their confidence and creativity this summer! Every Forefront Arts summer drama camp culminates in a public performance.
Recently, I asked Forefront Arts "what is the one thing you want Cumming Local readers to know about the Forefront Arts Summer Drama Camps?" Their answer was simple – "that we have something for everyone this year." And it's true! Whether your child is male or female, preschooler or tween, interested in drama or already in drama – there is a perfect drama camp for your child.
Forefront Arts Summer Drama Camps have multiple camp locations including Roswell, Alpharetta, Cumming, Johns Creek, Suwanee, Buford, and Hamilton Milll!
*NEW THIS YEAR: Forefront Arts has added Performing Arts Day Camps. These camps feauture 5 self-contained days of creative & performing arts activities.  You can enroll your child in 1 to 5 days based on your family's schedule!  Each day will feature an informal performance or creative exercise which will be filmed & posted online for your enjoyment.
Today, I wanted to walk you through all the themes they are offering this summer. Each camp is lead by professional actor instructors. Also, a portion of Forefront Arts proceeds will go towards sponsoring a child in Bali and supporting an orphanage in India. (Additional note: Forefront Arts is offering scholarships to foster families here in Georgia.)
For specific dates, times, cost, and location visit their master schedule by clicking here. 



"Beauty and the Beast" 

 
It's a tale as old as time! Belle, the Beast, Gaston, Lumiere the Candlestick, Cogsworth the Clock, Mrs Potts, Chip the Teacup, and all your other favorite characters will be onstage performing the classic fairytale musical in all it's splendor. Be our guest, and join us this summer in an enchanted castle in the forest.
The camp show will feature many well-known songs from the original Disney cartoon, and be completely family-friendly!  We've removed any scary elements from the camp script (wolves in the forest, etc) and focused on the wonderful characters and musical numbers that have made this story a classic!  Campers will love performing in big group numbers like "Belle" and "Be Our Guest"!
Click here to register for the Forefront Arts Summer Drama Camp
---

Perfect for boys, girls, & anyone with lots of energy!  Everyone will be safe, supervised, & get to save the day and perform cool action sequences!
"Superheroes, Stage Combat, & Stunt Training"
Calling all superheroes and actors who want to save the day! You know those famous action stars in all the popular superhero and action movies?  Most of them started their acting training while they were in elementary and middle school, and learned how to perform acting scenes and fight choreography live onstage before they transitioned to film work.  And now your child can too!  Specialized combat and stunt instructors will lead the campers in physical exercises and train them how to safely choreograph and execute a "fight scene" while being completely safe and self-controlled. The acting instructors will coach students in acting scenes (no singing or dancing) from popular hero and action films, and original scripts based on characters created during the camp week. Each age group will receive stunt training & acting instruction for their appropriate level, all culminating in a live performance of good vs evil and an epic battle scene onstage featuring superheroes of all ages!
Click here to register for the Forefront Arts Summer Drama Camp
---
"The Sound of Music" Song & Dance Revue 
There are so many wonderful and well-known songs in this classic musical and this summer your child can perform them all! In our revues everyone gets an opportunity to be featured onstage in big and small ways as we perform all of your favorite musical numbers!
Our script will focus on the wonderful relationship of Maria and the Von Trapp family, and all of the corresponding songs.  We've removed the darker moments from the film (Nazis, hiding in the Abbey, etc) so that our camp show will be family-friendly for all!  Whether it's the preschool campers performing as Marionettes in "The Lonely Goatherd," the full cast singing "My Favorite Things," or Maria leading the children in "Doe, a Deer," this is sure to be a favorite camp week for your family!
Click here to register for the Forefront Arts Summer Drama Camp
---

Specialty Comedic Camp for the comedy lover in your life!  Ages 10-14 will love this camp just for them!
"Make 'Em Laugh: Comedic Acting, Improv, & Sketch Comedy" 
Work on comedic timing, duo scenes, stand-up comedy routines, create sketch routines and larger than life characters, and play tons of improv games! This is your child's chance to perform in the funniest show of the summer, crafted by the campers so each week's show is completely fresh!
Every camper will work on a comedic monologue, duo scenes and well-known comedic routines like Monty Python, the Three Stooges, and Abbott & Costello, and work with the group to design an end-of-the-week improv show with scripted sketches, improv games, & audience participation!
Click here to register for the Forefront Arts Summer Drama Camp
---
Princesses & Pirates Preschool Camp
Children ages 3 to 7 can enjoy a half-day camp just for them at select locations!  We'll make up a new play combining Jake & The Neverland Pirates, Captain Hook, Captain Jack Sparrow, Long John Silver, Sophia the First, Snow White, Cinderella, and all of their pirate and princess friends!  
Your child will create princess crowns and pirate masks and do lots of play-acting as characters who live in castles, ships, and everywhere in between.  In this summer drama camp, your child will follow a treasure map to find a hidden treasure chest with fun goodies inside and put it all together into a performance for the end of the week.
Click here to register for the Forefront Arts Summer Drama Camp
---

Tweens & Teens & Advanced Students — we've got some special camp just for you!
"Hamilton: an American Musical Revue" 
America's most-popular musical is coming to a Forefront Arts stage this summer! Our tweens & teens will love showcasing their hip-hop skills as they perform in their favorite numbers from the show, work on hip-hop dance routines, learn how to sing along and understand the show's lyrics, and gain a better understanding of America's history, and "Hamilton's" show material!
This summer dram camp has two options for you to choose from:
Hamilton Jr — ages 8-14 (Johns Creek only)

Hamilton Revue — Ages 10-14 (multiple locations) Teen Summer stock — ages 13-20 (Johns Creek only)
Click here to register for the Forefront Arts Summer Drama Camp
---
Performing Arts Day Camps – NEW THIS YEAR!
Campers can enroll for 1-5 days, based on your schedule.  Each day will be self-contained with creative & performing arts activities and instruction, team-building exercises, free play and outside time, and rehearsal of performance numbers.  Each day will feature an informal performance or activity that will be filmed & posted online for your enjoyment.
Creative Dramatics campers (ages 3-6) will experience the daily themes under the direction of a specially trained Creative Dramatics Teaching Artist who will guide and support the children to engage at their appropriate level (writing their original stories as they tell it to her, directing the group in a group acting piece with prompted speaking lines,etc).  
Full-Day campers (ages 6-14) will be encouraged to fully engage at their personal levels and participate in each day's activities to their fullest extent. 
Click here to register for the Forefront Arts Summer Drama Camp
Click HERE to view the master schedule page. This is where you will find a listing of all the camp themes, locations, pricing, and more!
More About Forefront Arts: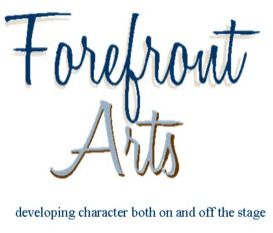 The Forefront Arts program is built on three pillars: 
bravery, creativity, integrity. We believe that experience in the performing arts provides students with many valuable life skills including self-confidence, resourcefulness, teamwork and self-control.  Our desire is that our students not only develop a love for the arts through our classes and drama clubs but that they also develop their confidence, imagination and leadership skills.