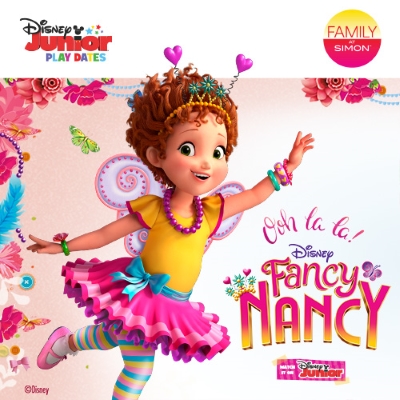 Mall of Georgia, North Georgia Premium Outlets and Town Center at Cobb invite the community to "Fancy Nancy"-themed Disney Junior Play Date events. Aimed to entertain and delight children of all ages, the events at each center will take place on Saturday, August 18.
Disney Junior's animated family comedy "Fancy Nancy", which debuts July 13, centers on Nancy, a high-spirited six-year-old whose zest and enthusiasm for all that is exquisite –including language, nature, art, and color – transforms the ordinary into the extraordinary. Excited to experience what the magnificent world has to offer, Nancy uses her ingenuity and resourcefulness to exemplify that even if life doesn't always go as planned, it's important to make the most of each day and encourage others to do the same. Watch the new series on Disney Junior to join the fun!
During the "Fancy Nancy"-themed Disney Junior Play Date event, families will participate in a variety of activities including photo booths, craft projects and more. The fun begins at the centers during the following dates and times:
Mall of Georgia: Saturday, August 18 from 2-4 p.m. in Von Maur Court
North Georgia Premium Outlets: Saturday, August 18 from noon-2 p.m. in Sundial Court
Town Center at Cobb: Saturday, August 18 from 1-3 p.m. in Center Court
Simon has created a national collaboration with Disney Junior to launch Family at Simon with Disney Junior Play Dates in approximately 100 Simon Malls, Mills and Premium Outlets across the country. Disney Junior Play Dates will be held quarterly featuring a different Disney Junior character to coincide with key shopping periods.

About Simon

Simon is a global leader in retail real estate ownership, management and development and a S&P100 company (Simon Property Group, NYSE:SPG). Our industry-leading retail properties and investments across North America, Europe and Asia provide shopping experiences for millions of consumers every day and generate billions in annual sales. For more information, visit simon.com.