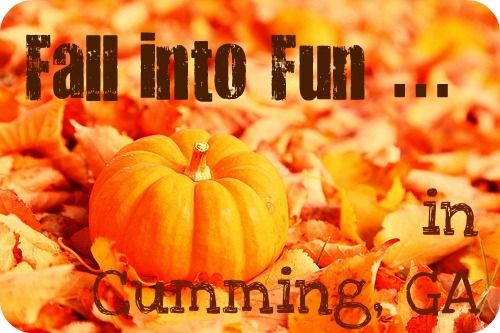 The fall season is probably one of my favorites.  I love the cooler weather, the clothes, the changing colors of leaves, the yummy fall food and all the activities that go along with the new season.
There are so many wonderful things to do this time of year.  And so many things, right here at home in Cumming, GA!  For the full, ever-changing, ever-adding list, check out our Calendar.  But here's a few things we're highlighting around town.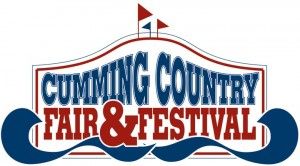 The Cumming Fair
Ten days of down home country fun!  Great food.  Great rides.  And a little something for everyone.  The fair comes to downtown Cumming on Thursday, October 6th and the Fairgrounds will be lit up through the 16th.  Hours and specials vary each day.  Check out all official information at The Cumming Fair website.  And check out our Top Ten Tips if you're new to the area or to the Fair.

Kinsey Family Farm
Take just a short drive to Northern Forysth County in Gainesville and visit Kinsey Family Farm.  You can make a morning or afternoon out of all the fun offered.  Not only can you pick out the perfect pumpkin, but you can also enjoy a hayride, feed the catfish, shop in the Fall Harvest Shop, and definitely get some great "pumpkin" photos with the family!
In addition to "regular" orange pumpkins, you'll find decorative pumpkins – like red, white & even green.  You'll find "pie" pumpkins and gourds too.
Fall fun activities are open til October 31st.  Activities include:
Hay Rides:  $2 per person (children 2 & under are free).  Hours vary.  Check their fall activity page for information.
Barn Animals & Fish Feeding:  Purchase fish food for $1 and feed the catfish.  These are HUGE and my kids have always loved feeding them in the past!  You'll also find an animal pavilion to feed the farm animals as well.
Picnic Area:  There is no charge to use this area, so bring your own lunch or purchase some snacks and drinks in the concession area.
And don't forget to stop in the Fall Harvest Shop before you leave.  You'll find honey, salsa, North Georgia Apples, Jams & preserves, fall decor & more!
Visit their Fall Harvest Page for hours & more information.
Haunted Houses
If you're looking for something a little more spooky this fall season, you have a few options in town.
Stars & Strikes is hosting "Hallo-Fun" every weekend in October.  It's spooky by day (recommended for ages 8 & up) and frightful by night (recommended for ages 12 & up).  It costs just $7 per person and includes access to additional Stars & Strikes fun.  All proceeds benefit a local charity.  Visit the Stars & Strikes Website for more information, hours & additional prices.
The Haunted Lodge is a historical slaughterhouse of Georgia's most famed butcher, l0cated on Castleberry Industrial Drive.  Ticket prices are $12 for adults & $10 for students.  Concessions are provided by Pier 29.  Visit the Haunted Lodge Facebook page for hours and additional information.
Local Fall Fun Festivals
The Calendar is filled with local fall fun festivals.  More seem to be added every day.  Here's a few to make note of:
Pumpkin Purchases
Earlier this week, we asked a question on our Facebook page to find out where everyone was purchasing their pumpkins this year.  Here are some of the more popular answers:
Warbington Farms – located in Cumming, the Farm is open daily.  Also mark your calendar for October 22nd when they'll host a "Pumpkin Palooza" from 10am to 5pm.  It will include hay rides, petting zoos, face painting, music, food & more!
Market 334 – Stop in at Market 334 (just off the Cumming Square), Tuesday through Saturday and find the perfect pumpkin.  While you're there, shop inside their fun Artisan Boutique and find hand-crafted funky finds, unique clothing, accessories, jewelry, home decor, natural soaps, folk art & so much more!
Cumming First United Methodist Church – once again, the "big hill" in front of CFUMC is filled with orange!  The patch is open daily from Noon until dark.  Proceeds support children's & youth ministries at CFUMC.
City Produce – Located across from Dairy Queen at the square, City Produce is stocked with pumpkins, gourds, and other fall veggies & decor.
Stars & Strikes – They've set up a patch outside.  Haven't been there myself, but that's what readers are saying.
So, what did we leave off?  Tell us some of your favorite places to visit around Cumming in the fall!
Photo Source – D. Sharon Pruitt

Photo Source