Bulldogs for Bulldogs: Saturday, November 14; 11-1
November 14, 2020 @ 11:00 am

-

1:00 pm

Free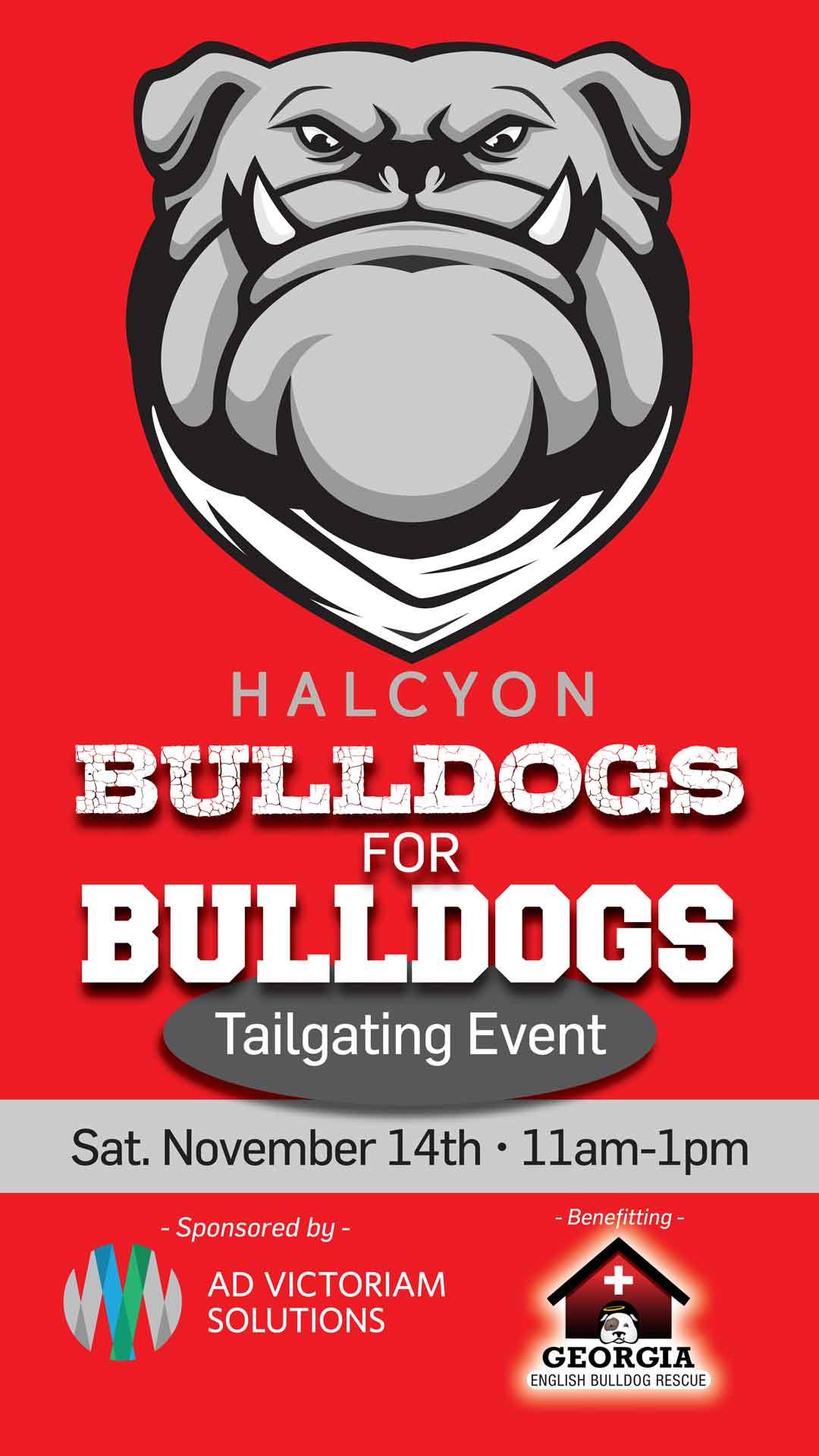 Bulldogs for Bulldogs – Saturday, November 14 from 11:00-1:00
Whether you're a bulldog owner, bulldogs fan or just love a good party, you're invited to our Bulldogs for Bulldogs Tailgating Event at Halcyon!
Thanks to our co-sponsor, Ad Victoriam, activities will include:
DJ in the Green
Caricatures
Roll with Juniper Photo Booth Bus
Giveaways
Adoptable dogs from the Georgia English Bulldog Rescue
Make and take crafts
Beer specials from our restaurants
You can watch the game outside during the event on the TVs outside Butcher & Brew. Or head over to Hobnob, Cherry Street Brewpub or Never Enough Thyme to watch the game.
No tickets needed – this event is free and open to the community. However, we do encourage you to purchase raffle tickets for a chance to win a $350 Halcyon Experience Basket. 100% of raffle ticket proceeds will be donated to the Georgia English Bulldog Rescue.
Please note: No outside food or beverage is allowed. Thank you for supporting our Halcyon small businesses.
https://www.facebook.com/events/660121111367693/?acontext=%7B%22action_history%22%3A[%7B%22surface%22%3A%22page%22%2C%22mechanism%22%3A%22page_admin_bar%22%2C%22extra_data%22%3A%22%7B%5C%22page_id%5C%22%3A1854815768136627%7D%22%7D%2C%7B%22surface%22%3A%22events_admin_tool%22%2C%22mechanism%22%3A%22events_admin_tool%22%2C%22extra_data%22%3A%22[]%22%7D]%2C%22has_source%22%3Atrue%7D