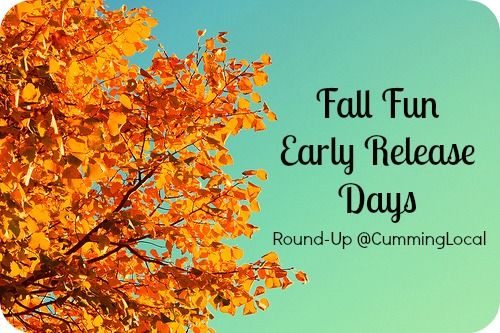 It's time for another round of "Early Release Days" in Forsyth County Schools.  Students in K-8 will release early on both Wednesday & Thursday.  And then Friday, 10/19 is a Student / Staff Holiday.
If you're looking for some ways to spend a Fall afternoon with the kids, we've put together a little round-up to help you get started … hope you enjoy!
And don't miss our round-up that came out last week – "Ten Things to Do this Fall in Cumming & Forsyth County".
Enjoy Time Together



Play Outside

– If it's not raining, definitely try to catch some good of this great outdoor weather we've been having. Play at a local playground, ride on the Greenway, or maybe even hike Sawnee Mountain. Click here for a list of Forsyth County Parks & Rec information.
Go Roller Skating – Let's Roll Skate 'n Fun Center Online | Let's Roll on Facebook
Always open for Forsyth County School breaks. Let's Roll will open at 1pm on Wednesday & Thursday and then at 11am on Friday.  All sessions are just $6. Quad or Inline skate rentals available for just $3.
Go Bowling – Stars & Strikes Online | Stars & Strikes on Facebook
Bowling, Arcades, Poker, Lazer Tag, Bumper Cars & More.
Tip: Check out their Specials Page & see if you can save on the day you plan to go.  And don't forget about the "Kids Bowl FREE" program.  Originally a summer only offer, this was extended into the fall.  Click here for more information.
Visit Kinsey Family Farm – Kinsey Family Farm Online | Kinsey Family Farm on Facebook
Enjoy the Fall Activities together on the farm, Monday – Friday 10am to 5pm.
Visit Warbington Farms – Warbington Farms Online  |  Warbington Farms on Facebook
Enjoy Fall Activities on the farm, closed Wednesday.  Open Thursday & Friday 11am to 6pm.  Don't forget to use your BOGO coupon.   And important note:  Warbington announced that Friday would be a "weekend" day since Forsyth County Schools are out.  They also have a Pumpkin Special going on & another round of Pumpkin Palooza on Saturday.
Paint Pottery Together – Glazed & Fired Online | Glazed & Fired on Facebook
Enjoy Open Studio Hours.  Check out these savings announced on the G&F Facebook page – 15% off Paint Your Own Pottery through Saturday 10/20 and 50% off Halloween Merchandise!
Catch a Movie Together – AMC Theatres | Carmike Cinemas 
Let the Kids Enjoy an Indoor Playcenter



Enjoy a Sweet Treat Together
Need Childcare Options? Check Out Recess by Charley
Still need to get some work done even though the kids are out of school? Consider Recess by Charley – they'll get to play & have fun and you can enjoy flexible childcare options.
For rates, more information & to reserve your spot, call 678.876.3456.
Recess by Charley Online | Recess by Charley on Facebook
So, those are just some of our ideas. Do you have any? Feel free to share in the comments below.
Photo Source:  D Sharon Pruitt