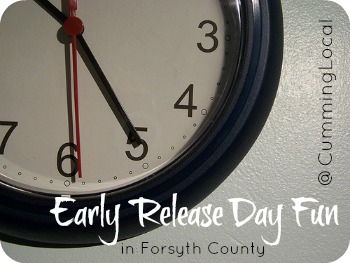 Our first (of several to come) Early Release Day of the new school year is this Wednesday, August 29th.  In all honesty, these took me a little while to get used to last year with a Kindergartener.  It's kind of a hassle – all that work to get up and get going only to be back at the bus stop for pickup a few hours later.  But I quickly came to actually like them.  It was a fun excuse to grab a treat or do something fun in the middle of the day and during the middle of the school week!
I know everyone's situations are different, but if you have the opportunity to embrace the extra time with your kids … embrace it!!   Even if you just spend the afternoon riding bikes, making cookies at home or going out around town.
The weather's looking pretty rainy with Isaac off in the distance, so I'm highlighting a few ideas for Indoor Fun today.  No matter what you decide to do, I hope you enjoy it!
Indoor Fun



Visit the Library:  Forsyth County Public Library
Spend time checking out new books or catch a special event.Sharon Forks Library – Cartoon Extravaganza
Wednesday, August 29th 2pm to 2:30pm
Grades 1-5
Registration Required
Cumming Library – Game Day
Wednesday, August 29th 2pm to 3:30pm
Grades 3-5
Registration Required
Hampton Park Library – Dogs 101
Wednesday, August 29th 2pm to 3pm
Grades K+
Forsyth County Public Library Online  | Forsyth County Public Library on Facebook

Enjoy a Sweet Treat Together
Still need to get some work done even though the kids are out of school?  Consider Recess by Charley – they'll get to play & have fun and you can enjoy flexible childcare options.  For rates, more information & to reserve your spot, call 678.876.3456.
Recess by Charley Online | Recess by Charley on Facebook

So, those are just some of our ideas.  Do you have any?  Feel free to share in the comments below.
*Published Times, Prices & Links as of posting, 8/27/12.  As always, it's possible we make errors or things change from our original publish date, therefore we recommend contacting the establishment prior to arrival for final confirmation.  Thank you.