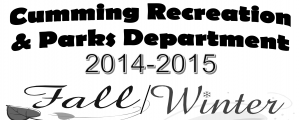 Program Registration
The new Fall/ Winter Registration guide for the Cumming Recreation & Parks 2014-2015 Year is currently available.
This guide is filled with opportunities for youth & adults to participate in activities such as:
Aerobics & Fitness,
Art,
Youth Basketball,
Self-Defense,
Tennis,
Guitar,
Gymnastics & Tumbling,
Horseback Riding,
Dance,
Drama & more!
Registration begins on Monday August 25th by mail, online, or walk-in at the Pilgrim Mill location.
More Information:
Click here to view the Fall / Winter 2014-2015 Cumming Parks & Recreation Guide and to get more information.
CUMMING RECREATION AND PARKS DEPARTMENT
Monday — Friday
Hours: 8:30 am — 4:30 pm
P.O. Box 34 (mail) or
410 Pilgrim Mill Road Cumming, Georgia 30028
Phone (770) 781-2030 Fax (770) 781-3485