Update:  This giveaway is now closed.  The winner, "Lauren" was selected via Random.Org and contacted via email.  Thank you for your entry & look out for our next giveaway soon!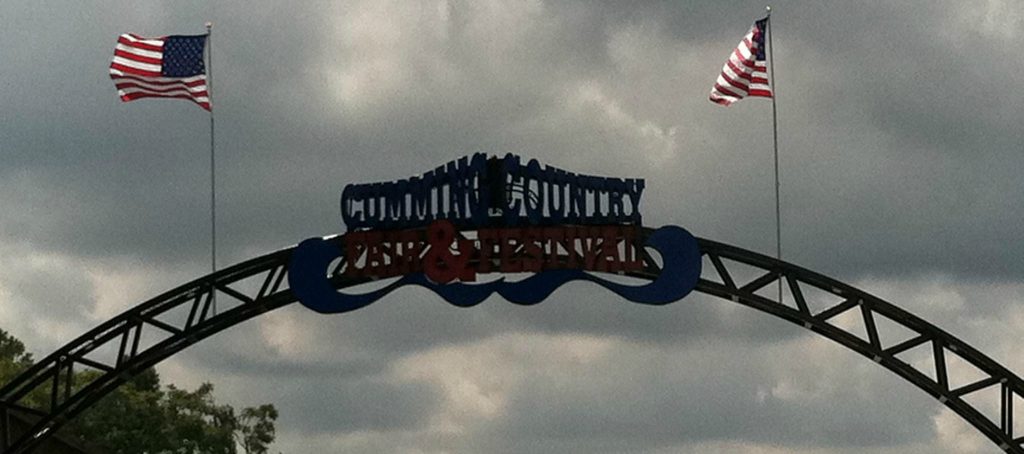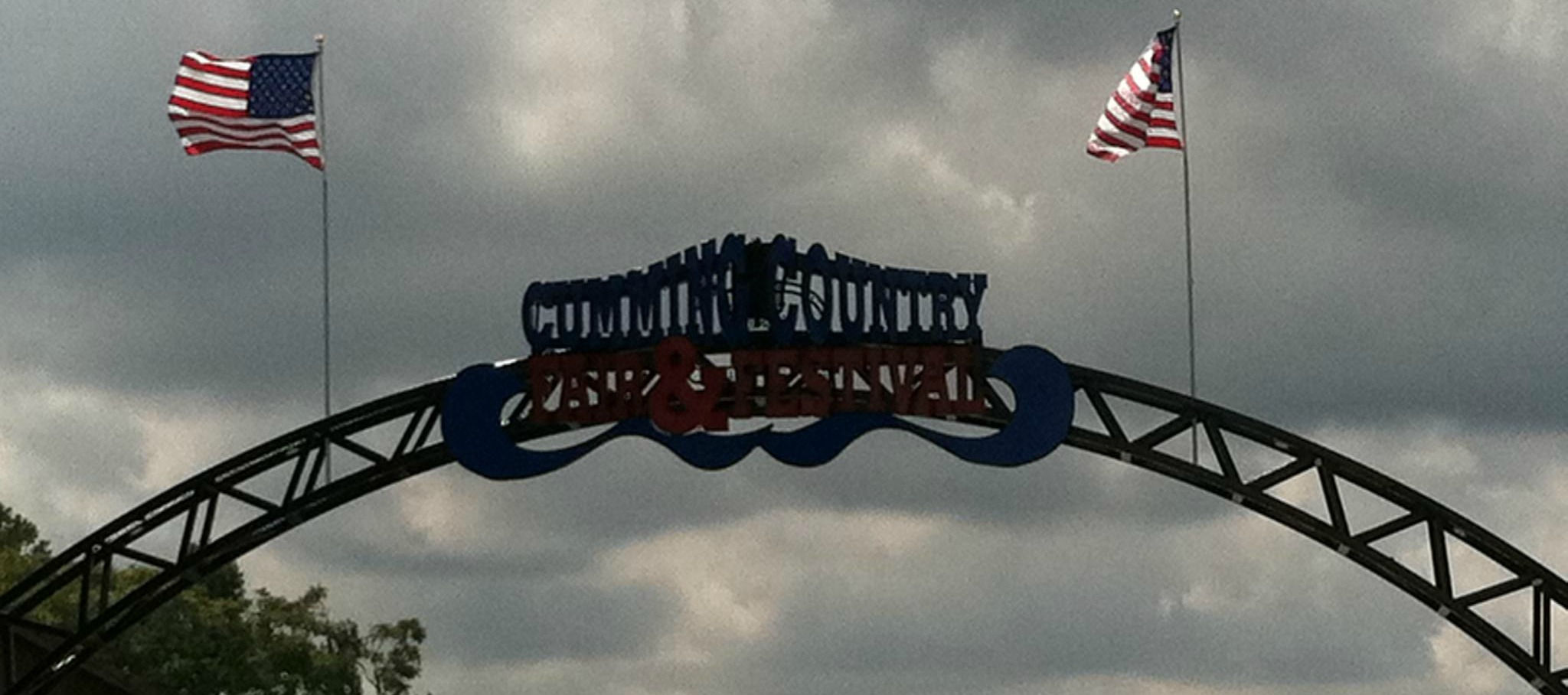 Tips to Enjoy the Fair … and Ticket Giveaway
When my husband & I first moved to Cumming about eight years ago, we didn't have any children and I had never been (or even heard of – gasp!) The Cumming Fair.
Fast forward eight years and I can assure you that my daughter, son, husband & myself definitely know about the Cumming Fair!  I actually avoid Castleberry Road as much as possible because it's hard to explain to a six and three year old that the Fair isn't coming back for several months!
But alas, the wait is over!!  The buckets are up, the entrance (pictured above) was being built just last week, and soon, we'll see the rides and carnival games driving through town.  The countdown is on!
Last week, I posted the above picture on our Facebook page.  And I must say, I was surprised that some of you (not naming names!) have lived in Cumming as long as you have without having visited the Fair yet.  It's most definitely an expense line on the budget, so I certainly understand if you choose not to go (for that reason or others).  But there are some good, practical ways to manage some of the costs you might incur.
Here are a few tips I've come to learn over the years (merely my personal opinions & suggestions):

1.  Purchase Advance Admission Tickets – The savings aren't huge, but if you have to pay for several (kids or adults) then the savings can most definitely add up!  You can see the savings here.  But you need to hurry.  Advance ticket sales are only available through Friday, 9/30.
2.  Visit Free Admission Days (when available) – There are several free admission days throughout the 10-day period.  This is definitely a way to save some money.  My only caution with this, is that most people are going to take advantage of this, which means it's probably going to be crowded.  So it's a personal decision to weigh the cost vs. the crowd!   Click here to check out the Free Admission Days.
3. Visit on Pay One Price Rides (when available) – Several days you can purchase "Pay One Price" ride tickets.  This is basically a pay & play all day kind of ticket.  The tickets are non-transferable when you do this.   So my recommendation is to weigh out how many tickets your little one will need.  At first glance, it might make a lot of sense – and it might for most people.  But if your child doesn't enjoy rides very much or if you know you won't be there very long it could actually be a little more expensive.   However, if you or your child plan to ride late into the night – go for it!!   Click here to check out the Pay One Price Ride Days.
4.  Take advantage of 2 Ride for 1 Days (when available) – If you have two children similar in age & adventure level, then this could be perfect for you.  However, the biggest catch I remember with this one in year's past is that they have to get on the ride at the same time.  I have a 6 year old and a 3 year old.  So they can't ride too many of the same rides anymore.  Therefore this deal doesn't end up helping us out too much.  But it might be perfect for you!  Click here to check out the 2 Ride for 1 Days.
5.  Save Three Bucks on Parking – Sure you can park right across from The Fairgrounds & get stuck in traffic coming & going.  But you could also save those $3 and park down the street somewhere, take an easy walk on the sidewalks & have an extra $3 for funnel cake!!!
6.  Don't fall for the "Free Rides" trick – If it sounds too good to be true … you know the saying!  There are "Free Rides" on Saturday 10/8.  However, it's only free from 10am to 11am.  We made the mistake of trying it one year and it was INSANE!  Just getting in was crazy, much less waiting in the lines and trying to get on ONE ride within that hour timeslot.  I imagine if you got in line at the crack of dawn and zipped to your favorite ride you might make it on a couple.  But if you're with small kids, a stroller, and everything that goes along with it … you might end up more frustrated than anything.  Again – my opinion only!!
7.  Check Showtimes – There are lots of little attractions & shows going on throughout the fair – in addition to the bigger, headlining shows in the evening.  If you're interested in catching some of the smaller ones, definitely be on the lookout for show times.  They will be posted on site and the day of the fair.  These are all free with Admission and can be a nice break for everyone!
8. Enjoy the FOOD – Fair food doesn't have calories … right?  It's fun.  It's the fair.  I say enjoy it!  Then go on a good cleanse the next week;)
9.  Bring Your Patience – The Ride Attendants definitely aren't paid by how many times they push the start button on the ride within an hour period!  For whatever reason the lines are never clear and often times cause confusion (if not fights).    And for whatever reason, rarely is the entrance to a ride different than the exit … can you tell these things drive this Type A personality crazy!!!  Maybe those things will be better this year … maybe?!
10.  Have Fun!! As I have to remind my kids … the fair only comes around once a year.  Enjoy it.  Take it.  It's the start of all things Fall here in Cumming and a great time to enjoy with your friends & family.  So … enjoy!!
I forgot the most important Tip of All …. WIN TICKETS!!
At Sunday's "Play at The Park", we gave away a Family Pack of Admission Tickets to one lucky winner – big Congrats to "Suzie B." – she has been contacted via email.
But now, we're ready to give away ANOTHER Family Pack away!
Giveaway:
2 Adult & 2 Children Admission Tickets to The Cumming Fair
How to Enter:
You may do one or all of the following:
Simply leave a comment on this post saying you want to win tickets!
Subscribe to our Daily Email – one email each morning with all new updates from the night before (if you already subscribe just leave an extra comment here saying so).
Subscribe to our Newsletter – highlighting major events, specials & giveaways (if you already subscribe just leave an extra comment here saying so).
Giveaway will close on Saturday, 10/1/11 at Midnight.  One winner will be selected from all above entries via Random.Org.   Winner will be notified via email.
Disclosure:  While this giveaway is being promoted on Facebook, it is in no way associated with, sponsored, endorsed or administered by Facebook.  By entering this giveaway, you acknowledge this and release Facebook from any responsibility of such.  Furthermore, you acknowledge that any information provided for entry is being provided to Cumming Local and not to Facebook.