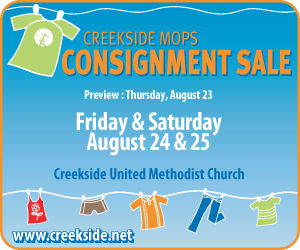 Creekside MOPS Prepares for Huge Fall Consignment Sale
Organizers Expect 200 Consignors Selling over 25,000 Items!
On Thursday, Aug. 23, through Saturday, Aug. 25, Creekside's Mothers of Preschoolers (MOPS) group will host its 8th consignment sale at Creekside United Methodist Church, located at 673 Peachtree Parkway next to South Forsyth High School. The popular sale will feature gently used children's and maternity clothing, toys, nursery equipment and more. Proceeds from the sale benefit MOPS and Teen MOPS ministries. This is one of Forsyth County's largest consignment sales and is eagerly anticipated by sellers and bargain shoppers.
New and previous consignors are encouraged to sign up now for the sale at www.creekside.net using My Consignment Manager. There is a flat fee of $10 payable by Paypal, cash or check to consign items. Consignors earn 70 percent of the selling price up to $100 for their items. For items priced above $100, sellers earn 80 percent of the selling price of a single item.
Items that will be accepted include gently used fall, winter and seasonal clothing items, shoes, baby and kids furniture, rugs, bedroom and playroom decorations, outdoor toys, toys in great condition with all applicable parts, working electronic games and toys, strollers, highchairs, bouncy seats, jumpies, swings, ride-on toys, books, DVDs, CDs, puzzles, games, children's accessories, maternity clothing, Halloween costumes and children's holiday items. Stuffed animals and VHS videos will not be accepted.
Consign at the Sale:
Click here to start the Registration Process
Shop the Sale:
Thursday, August 23rd – Preview night open to the public on from 8 p.m. to 9 p.m. for a $5 donation.
Friday, August 24th – 9am to 1pm
Saturday, August 25th – 8am to 1pm (many items will be marked down to half price).
Volunteer at the Sale:
Folks who wish to shop early for the best bargains are encouraged to sign up as a volunteer. Volunteers are needed to help take tags off of items, sort and hang clothing on racks and greet shoppers at the door. Volunteers will be allowed to shop two hours earlier than the public at the pre-sale on Thursday for free and one half-hour earlier than the public at the half-price sale on Saturday.
More Information:
For more information about MOPS or the sale, email Mendy Moore at mops@creekside.net.