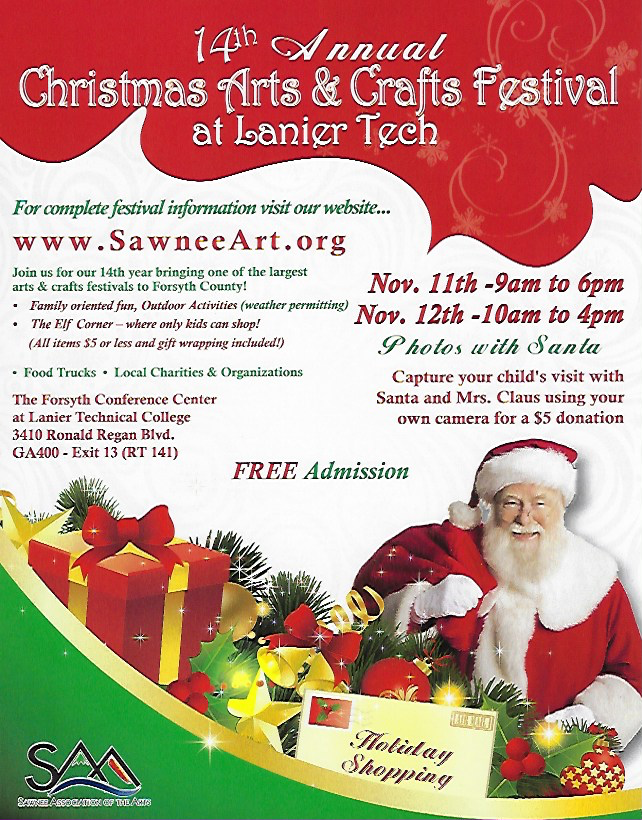 Christmas Arts And Crafts Festival At Lanier Tech
Join us as Sawnee Association of the Arts (SAA) hosts the 14th Annual Christmas Arts & Crafts Festival at Lanier Tech. This grand event is being held on Nov. 11th & 12th at the Forsyth Conference Center at Lanier Technical College, located at 3410 Ronald Regan Blvd, Cumming GA. Free admission!
The Christmas Arts & Crafts Festival at Lanier Tech is the largest indoor/outdoor arts and crafts festival in Forsyth County, with over 100+ vendors; it has become an established community event with local residents. Children will have the opportunity to play in two Moonwalks (weather permitting) and help raise funds for Relay for Life -Forsyth; Shop for gifts in the Elf Corner, a special shop where only kids can shop! Elves will help them choose gifts for friends and family; gift wrapping included. Parents can capture their children's special visit with Santa and Mrs. Claus using their own cameras for a small donation. Food trucks, and food vendors will be available outside, along with numerous non-profit organizations that SAA is hosting as part of our community outreach program.
Please visit our website at www.SawneeArt.org for complete festival information. We look forward to seeing you!
This juried Festival will feature original, handcrafted works by professional artisans & craftsmen in the following mediums: painting, drawing, photography, mixed media, pottery, wood working, glass, fiber and food.
The SAA wishes to thank the Forsyth County Arts Alliance and our sponsors, including PeachSkin Sheets, for their generous sponsorship and support of the 2017 Christmas Arts & Crafts Festival at Lanier Tech.
---
About Sawnee Association of the Arts:
Founded in 1974, the SAA has served the Forsyth County community as a 501 (c)(3) non-profit organization for more than 40 years. The organization is dedicated to providing a rich, visual arts experience for Cumming and Forsyth County residents by organizing shows and exhibits throughout the year. Its many members include painters in oil, water color, acrylic, and other media; potters, wood turners, 3D artists, photographers, fiber arts as well as community art advocates. Membership is open to anyone regardless of experience and ability.
To learn more about SAA, please visit www.sawneeart.org.