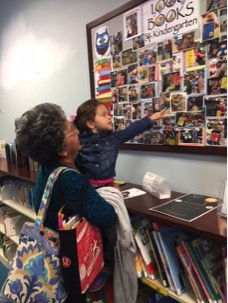 Clifford The Big Red Dog Helps Families Kick Off Reading Resolutions
It's that time of year when nearly everyone is thinking about making a new year's resolution. For parents and families resolving to spend more quality time with their young children, Forsyth County Public Library has a bit of advice: read.
"Not only is reading aloud with children a wonderful way to snuggle up and share a good story, but it's also one of the best ways to prepare a young child for learning to read when they enter kindergarten," says Outreach and Program Manager Tracy Walker.
In addition to encouraging families to make a resolution to read in 2018, the library will host a series of three early literacy events featuring beloved children's book character Clifford the Big Red Dog.
Clifford will visit special 1,000 Books Before Kindergarten storytimes on Tuesday, January 2 at 11:15 a.m. at the Post Road Library, on Wednesday, January 3 at 10:30 a.m. at the Cumming Library, and Thursday, January 4 at 11:15 a.m. at the Hampton Park Library.
All three events are free and are designed for infants, toddlers, and preschoolers up to age five, with a caregiver.
"Each of these 1,000 Books Before Kindergarten storytimes will feature Clifford stories, songs, and crafts, as well as a chance for the children to meet Clifford. We believe that learning begins at home, so we'll also be sharing practical reading tips that families can incorporate into everyday activities they're already doing," explains Walker.