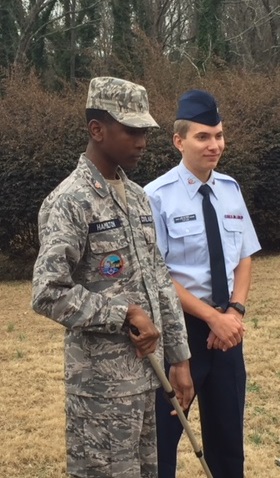 Cadets and other representatives from Civil Air Patrol Squadron GA160 in Gainesville will lead a 3-hour workshop on aerospace and the science of flight on Saturday, August 4 at 11:00 a.m. at the Cumming Library, 585 Dahlonega Street. The Aerospace Workshop is intended for students in kindergarten through ninth grade and admission is free.
"We first began working with the squadron when McKevor Tatum, a teen patron and volunteer, shared his experiences with the Civil Air Patrol," explains Julie Boyd, Youth Services Supervisor at the Cumming Library.
Boyd and Tatum worked together to plan the first Aerospace Workshop at the Cumming Library earlier this year.
"Our patrons are very interested in science and technology programming, so we knew McKevor's idea to host a workshop with the Civil Air Patrol would be well received. More than 70 students and their parents and caregivers participated in January's workshop and we all had a great time learning about flight and then building and testing our own air-powered rockets," explains Boyd.
Next weekend's workshop will focus on flying kites, balloons, and gliders. Participants will learn about the scientific principles and the mechanics of flight, including hands-on experiments to demonstrate Newton's Laws of Motion and Bernoulli's Principle. Then, participants can build their own flying machines and test them on the lawn behind the library at the end of the workshop.
Representatives from Squadron GA160 will also explain the purpose of their organization and answer questions from parents and students about ways to get involved. The squadron is part the Georgia Wing of the Civil Air Patrol, U.S. Air Force Auxiliary and operates Cadet and Honor Guard programs, participates in FEMA and Search and Rescue training, and leads local aerospace education efforts.
"We are excited to learn more about aerospace and the opportunities that are open to students who have a passion for science and flight. It will be a pleasure to welcome the cadets and other squadron leaders back to the library and we know our patrons will learn so much from this workshop," adds Boyd.
For more information about Civil Air Patrol Squadron GA160, please visit www.ga160.org. For more information about the Aerospace Workshop on August 4 or other library programs, please visit www.forsythpl.org.