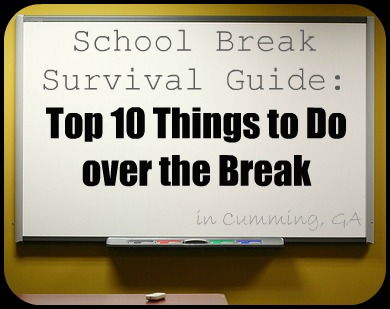 Forsyth County Schools are closed for 11 days over the Winter / Christmas / Holiday Break.  When you add the weekends in, it means the kids will be home 15 days straight.
I am completely thrilled to have my kids at home for such a long period.  The days will be filled with staying up late, sleeping in (hopefully) and we'll be so busy with family fun & activities that those 15 days will seem more like just a few!  But the truth is – they'll also get bored.  They'll start to fight with each other.  And on December 27th, they'll likely complain that they have nothing to play with.  Sound familiar?
If you have extended family in town or if you're just looking to explore some fun things with you friends and immediate family, it might be a great time to check out some fun things right here in town.
Looking at this list, I think we're pretty lucky here in Forsyth County.   Lots of things to do in Cumming GA!  Here's a Top Ten round up of some ideas:
1.  See FREE Movies at the Library:  Forsyth County Public Library – Free Family Cinema
Three movie screenings at the Hampton Park Library.  Three different takes on the classic "Christmas Story" by Charles Dickens.
All Showings December 23rd
10:15am – Mickey's Christmas Carol (Rated G, 26 minutes)
11:00am – The Muppet Christmas Carol (Rated G, 35 minutes)
2:00pm –  A Christmas Carol (Rated PG, 96 minutes)
For more information & directions, click here.
Forsyth County Public Library Online |  Forsyth County Public Library on Facebook
2.  Take advantage of Flexible Childcare:  Recess by Charley
Open regular &/or extended hours most of the break.  Offering flexible, per hour childcare.
Open:  December 21st – December 23rd
Open:  December 27th – December 30th
For rates, more information & to reserve your spot, call 678.876.3456.
Recess by Charley Online |  Recess by Charley on Facebook
3.  Enjoy an Indoor Playcenter:  Catch Air

Free Wi-Fi & Coffee for the parents + indoor fun for the kids.
Offering Extended Hours during the break.
Open Christmas Eve (til 2pm), the day after Christmas, & New Year's Eve (til 2pm)
Tip:  Always check their Facebook Page.  They are awesome at offering daily specials to their Facebook fans.
Catch Air Online |  Catch Air on Facebook
4.  Go Rollerskating:  Slapshots Family Skate Center

Offering extended hours during the break.
Highlights:  Open Christmas Eve (till 4pm) and New Year's Eve.
All sessions are just $6.  Quad or Inline skate rentals available for just $3.
Slapshots Online |  Slapshots on Facebook
5.  Take advantage of Drop-Off Childcare:  Adventure Kids
Offering two days of Drop-Off Childcare for those last minute errands you need to run.
December 22nd:  10am to 6pm
December 23rd:  10am to 11pm
Also check out Adventure Kids on "regular" days where you stay while the kids play.  It's cheap & fun!
For rates, more information & to reserve your spot, call 770.406.8952.
Adventure Kids Online |  Adventure Kids on Facebook
6.  Go Ice Skating:  The Ice
Open through Christmas Eve (til 4pm) & the Day After Christmas.
Open New Year's Eve.
All sessions are just $7.  Skate rentals available for $3.
7.  See a (Discounted) Movie

Lots of new movies are out this time of year.  Check out the AMC Theatres Schedule or the Carmike (formerly Movies 400) Schedule.
AMC Theatre Tips:
Showtimes before Noon are just $6.
Senior Day (60+) is on Tuesday ($6 tickets).
Student Day (with valid Student ID) is on Thursday ($8 tickets).
Check out the current Holiday Promotions before arriving.
Carmike Cinemas Tips:
8.  Go Bowling:  Stars & Strikes
Provides Bowling, Arcades, Poker, Lazer Tag, Bumper Cars & More.
Tip:  Check out their Specials Page & you'll really save.
Tip:  For a family bowling outing, go on Wednesdays – just $0.99 for bowling or $1.99 for boutique bowling (shoe rental regular price).
Stars & Strikes Online |  Stars & Strikes on Facebook
9.  Go Canvas or Pottery Painting:  Glazed & Fired
Take advantage of two Canvas Nights during the break – perfect for a girls night out after some stressful days:  Thursday 12/22 & 12/29 from 7pm to 9pm.  Visit the Calendar for details.
Bring the Family & Pop-In for some Open Studio Time – let everyone pick out a pottery piece to paint & remember the holiday season.
Glazed & Fired Online |  Glazed & Fired on Facebook
10.  Celebrate Christmas Eve Together
Check out our listing of Christmas Eve (and some Christmas Day) Services.  Many options around Cumming & Forsyth County for traditional, communion, and candlelight services.
Bonus Tip:
Don't forget to check out the Christmas Light Shows in Cumming GA through New Year's!  Both Christmas in Cumming GA & Blink Midwinter are a great way to show off our city's talented, generous & selfless residents!
Most Importantly?
Have fun & enjoy this Season.  I know I am!
Photo Source