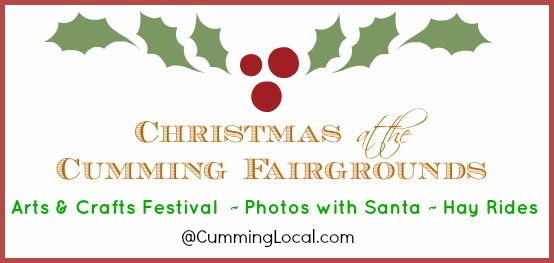 Christmas at the Cumming Fairgrounds
Arts & Crafts Show
Photos with Santa
Hay Rides
December (Friday) 7 & (Saturday) 8, 2012

Make sure you plan to attend the 15th Annual Christmas in Cumming Arts & Crafts Show, December 7th and 8th presented by BJ's Membership Club.  The event will take place on Friday the 7th from 4:00 PM – 10:00 PM and on Saturday the 8th from 10:00 AM – 5:00 PM.  The show attracts over 7,500 people and will be held inside the heated Cumming Livestock Barn located on the City of Cumming Fairgrounds.  There will be over 100 festive booths in the show.  Admission is $1.00 with children 12 & under entering free.
While the Christmas in Cumming Arts & Crafts Show is taking place, there will be FREE photos with Santa on Friday from 6:00 PM – 9:00 PM and on Saturday from 12:00 – 3:00 PM in the barn.  There will be a Christmas Light Show, Hayrides, roasting marshmallows, and caroling, on Friday evening from 7:00 PM to 10:00 PM. Come join us to hear the sweet sounds of local elementary school 5th grade and church choruses starting at 7:00 PM on Friday.
Don't miss this opportunity to shop for unique hand-made gift item for someone special.  Come and enjoy holiday cheer while shopping for hand woven sweet grass baskets, Christmas ornaments & wreaths, fudge & nuts, piggy banks, photography, paintings, clothing and more.  For more information on the Christmas in Cumming Arts & Crafts Show, please call Bill Watson at 770-423-1330 or www.jrmmanagement.com.

More Information:
What:  Christmas in Cumming Arts & Crafts Show presented by BJ's Membership Club
When:  Friday; December 7 and Saturday; December 8
Times:  Friday; December 7; 4:00 p.m. – 10:00 p.m. and Saturday; December 8, 10:00 a.m. – 5:00 p.m.
Where:   City of Cumming Fairgrounds
235 Castleberry Road
Cumming, GA 30040

Directions:     Take GA Hwy. 400 to Exit #15 (Bald Ridge Marina Road) go west, continue straight to the third traffic light and turn left, stay straight and the City of Cumming Fairgrounds will be a ¼ mile on the right.  The Arts & Crafts Show will be held in the large red barn.

Admission:    $1 Admission
Children 12 & under are admitted FREE