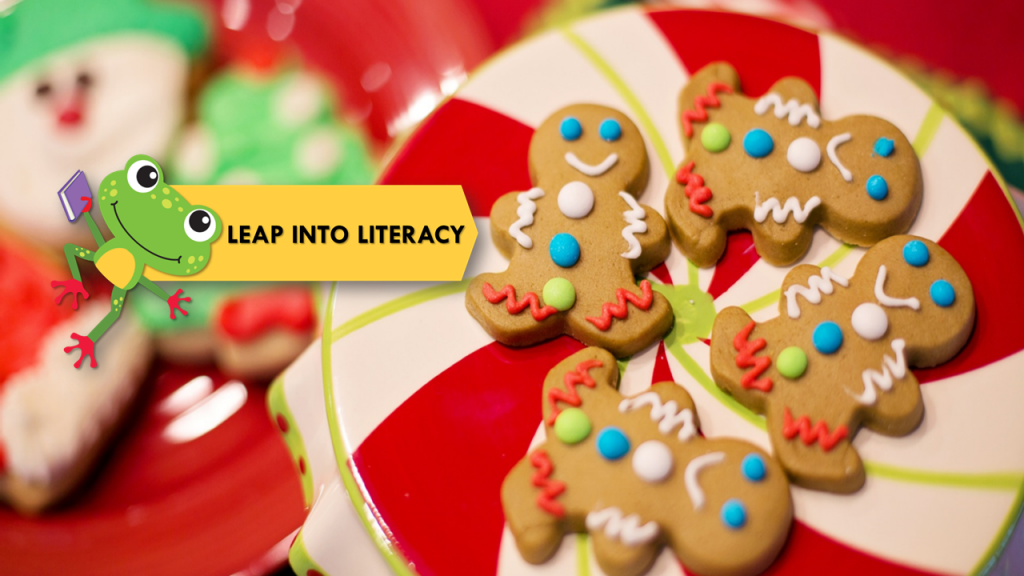 Preschoolers, toddlers, infants, and their families are invited to celebrate the stories of the season at Leap into Literacy with the Gingerbread Man, Wednesday, December 5 at 5:30 p.m. in the Cafeteria at Cumming Elementary School, 540 Dahlonega Street.
Admission to the event is free and advance registration is not required. While the program is designed for infants, toddlers, and preschoolers, children of all ages are welcome to attend with a caregiver.
The event is the second in the 2018-2019 Leap into Literacy series and will feature a puppet show, stories and songs in English and Spanish, early literacy activities, and a chance to take a photo with the Gingerbread Man himself!
Participants will also enjoy a simple dinner from Rosati's Pizza and an authentic gingerbread cookie baked by Gasthaus Tirol that children can decorate with toppings courtesy of Ingles Markets.
After meeting the Gingerbread Man and practicing a few simple early literacy activities, children will also receive a free book to take home, courtesy of Scholastic, Inc.
"Just over a year ago, Leap into Literacy was formed as a partnership between Forsyth County Public Library, Forsyth County Schools, Georgia Highlands Medical Services, and Literacy Forsyth because we recognized that local families need help preparing their children for success in kindergarten," says Tracy Walker, Programming Manager at the library.
The program is designed to reach families with children from birth to age five with a series of four free early literacy events each academic year. The events include a storytime or puppet show program designed for preschoolers, a nutritious meal, and education activities that give parents and caregivers the ability to continue early literacy practices at home.
Leap into Literacy organizers agree on the importance of early literacy in preparing children for success in kindergarten and the holidays offer a wealth of opportunities to help children practice early literacy skills.
"Families love to tell stories and share their memories around the holidays and when we tell traditional stories or sing traditional songs, we're often using words that aren't as common in our speech at other times of the year. Learning these less common words increases a child's vocabulary, and that becomes a predictor of reading readiness and success for children as they enter elementary school," explains Amy Chang, Title I Director at Forsyth County Schools.
Information about literacy, education and health services from the library, Forsyth County Schools, Georgia Highlands Medical Services, and Literacy Forsyth will also be available during the program.
"In addition to helping parents and caregivers teach pre-reading skills to their children, Leap into Literacy also aims to connect families with young children to other free and low-cost services in Forsyth County," adds Walker.
Leap into Literacy is sponsored by Forsyth County Public Library, Forsyth County Schools, Georgia Highlands Medical Services, and Literacy Forsyth. Leap into Literacy is also supported by a Community Impact Grant from the North Georgia Community Foundation, as well as contributions from Scholastic, Inc., Forsyth County Public Library Friends and Advocates, Barnes & Noble, and other local businesses.
For more information on upcoming early literacy events, including the next Leap into Literacy event in the spring, please visit www.forsythpl.org.