BJ's Wholesale – National Coupon Month
Earlier this month I shared on Facebook how I spent some time with some members of the BJ's Wholesale team.  Along with some other Atlanta-area bloggers, we took a tour of the Woodstock BJ's Club, enjoyed some lunch, and learned some new-to-me things.
The Woodstock Manager (Glea), shared with us about BJ's mission and I must say he was so incredibly passionate about his job – it was awesome to hear him talk about groceries and produce!!  I truly think he sees his personal mission to make sure everyone shops at a clubhouse!  And of course he wants that to be BJ's, but still he was insistent on shopping a clubhouse to save money.
I am a member of the Cumming BJ's so I knew a lot about what to expect during the tour – but I also learned so much too.   For instance …
I knew they had a butcher and deli shop, but I didn't know that you could purchase something from the meat case and then have the butcher individually wrap so you could use as need once at home!
I knew they some organics, but I didn't know their organic selection was growing & growing!
I knew they sold rotisserie chicken, but I hadn't ever paid attention to notice they were only $4.99!!!  I've been paying $7.99 or even $8.99 sometimes at the grocery store!
I knew they were the only wholesale club to accept manufacturer's coupons, but I didn't know HOW THAT WORKED (continue reading b/c you may learn something new too)!
I knew they had a collection of home and clothing, but I didn't know I should actually be shopping there!!  Honestly, I don't think I've ever looked through those middle sections for clothes and gifts.  But did you know they sell a lot of name brand clothing?!
I knew they sold office supplies but I don't know why I didn't think about them for school supplies!!!  Ack!  We toured products for Back to School and College Dorm Rooms – they had some awesome deals and really cools things for dorms!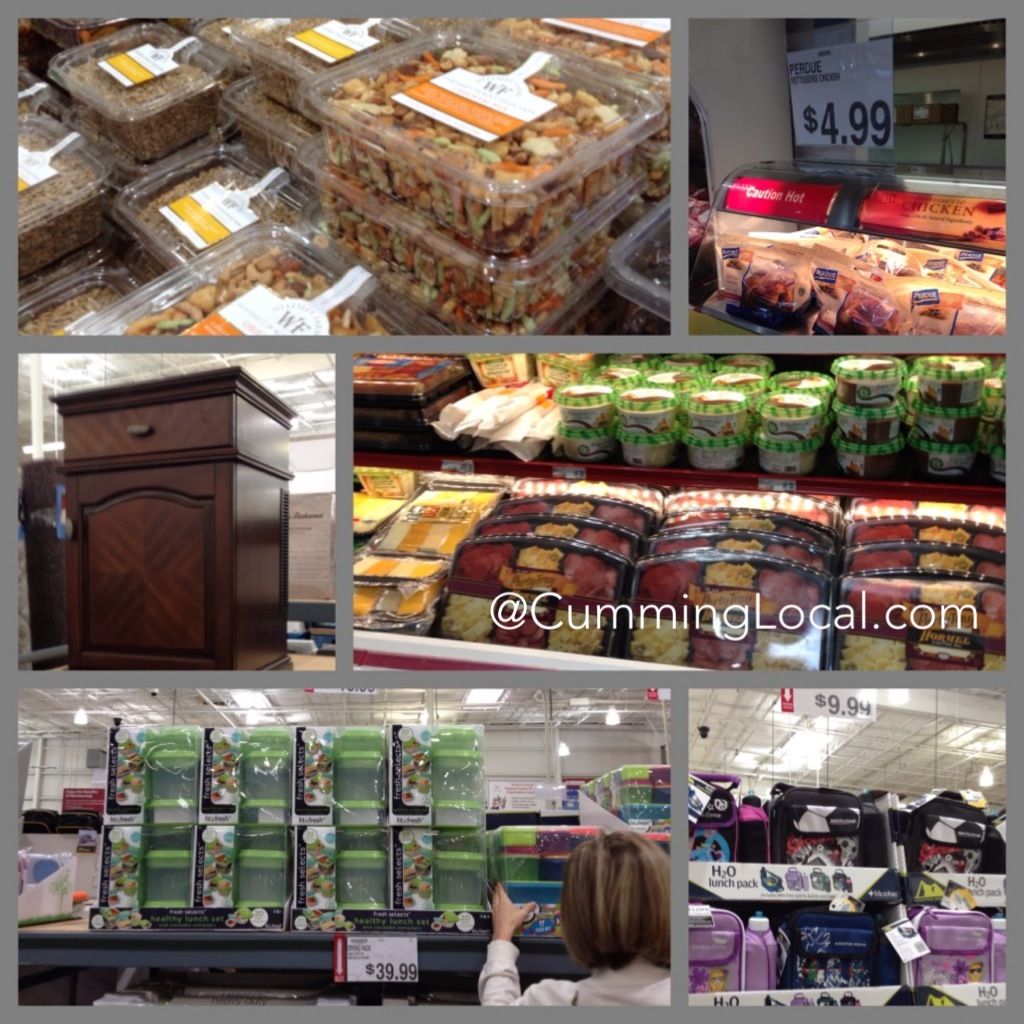 BJ's Accepts Manufacturer Coupons PLUS:
So yes.  BJ's accepts manufacturer coupons, but here's a couple of cool points to that:
1.  When purchasing a multi-pack of items at BJ's, which is a set of items that can be sold individually (each item has a barcode) shrink-wrapped and sold together, shoppers can combine one BJ's issued coupon WITH multiple manufacturers' coupons.  However you cannot exceed the actual retail price in the total value of coupons.
So for example – if you purchase a multi-three-pack of toothpaste, you can use the BJ's coupon PLUS up to three manufacturer's coupons!  HOLY COW I've been missing out!  They'll even accept manufacturers' coupons from online too!!
2.  You can of course also use on BJ's Coupon & one Manufacturer's coupon on a single item.
3.  In terms of manufacturer's coupons that are "buy one, get one free" BJ's will honor the coupon for items in stock as long as BJ's price does not exceed the maximum value stated on the coupon.  If the manufacturer's coupon does not state the maximum value then BJ's cannot honor the coupon.
Here is a video from BJ's that explains more – pretty cool if you didn't know this already, like myself!
National Coupon Month:
Kickoff National Coupon Month with BJ's Wholesale Club's Shopper Appreciation Event Labor Day Weekend – Friday, August 30- Monday, September 2.  During the 4-day event, shoppers will have the chance to win a $200 BJ's gift card and $200 donation to a charity of their choice in honor of its 200th club which opened this summer.  Additionally shoppers will receive high-value BJ's Labor Day Coupons.
Everyone is welcome at the Shopper Appreciation Event.  BJ's has a FREE 60-day trial membership that will begin on August 30 and can be activated until December 31.  The risk-free trial includes full member benefits and no surcharge.
More About BJ's Wholesale:
Visit BJ's Online
Visit the Cumming Location:
1725 Market Place Blvd
Cumming GA 30041
Phone:  770.781.8735
Disclosure:  I was hosted by Bj's Wholesale for a lunch & tour to learn more about the company.  I was provided with a gift basket from BJs as a thank you for my time during the event and preparing this post.  All opinions expressed are my own.