Award-Winning Happy Belly Kitchen Now Open in Cumming

Happy Belly Kitchen is the latest business to open its doors at Vickery Village, a thriving 200,000 square foot mixed use development in Cumming, Georgia. Voted "One of the Top 10 Healthiest Food Trucks in America" and "Best Truck" at the 2012 Atlanta Street Food Festival, Happy Belly Curbside Kitchen has brought its wholesome, fresh food concept into its first brick and mortar location. "Vickery Village offered the quaintness, the charm and the community atmosphere we were looking for," says owner Dawn Hall.
Happy Belly's menu is comprised of all natural foods using fresh, organic and local ingredients whenever possible. They are the only restaurant and food truck in the world with a Big Green Egg inside their kitchens which helps produce extraordinary flavor while maintaining healthful preparation. All meals are cooked on Maple Hardwood Charcoal for a perfect smoke flavor.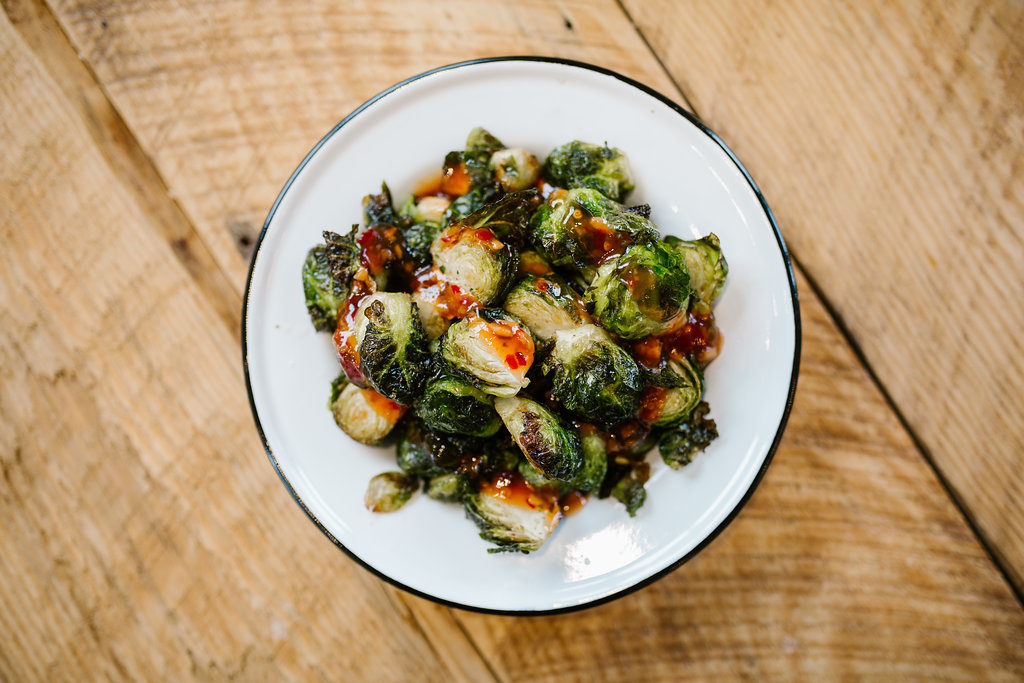 Popular menu items include their Brussels for Muscles, crispy sprouts drizzled with Thai-citrus chili sauce, The Georgian, a Big Green Egg grilled short-rib brisket burger with Vidalia onion relish, cheddar cheese, ancho chili dressing on a Holeman & Finch white wheat bun and One for the Kipper Salad with fresh kale, blue cheese crumbles, candied pecans, granny smith apples, golden raisins, apple wood smoked bacon, apple cider vinaigrette topped with chilled house-kippered salmon. Kids 12 and under can choose from such dishes as Chicken Little, big green egg grilled chicken tenders or the Lil' Georgian, a Big Green Egg grilled all-beef burger topped with cheddar cheese.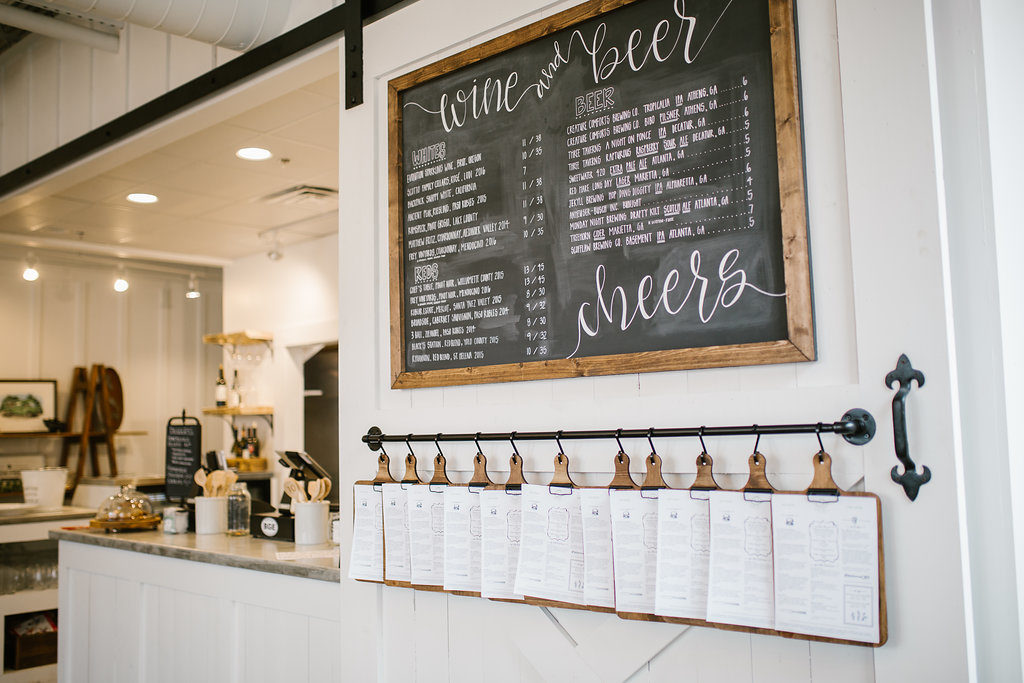 Dawn says "We believe in quality ingredients, healthful preparation and exceptional flavor. We try to provide healthy meals to busy families who don't always have time to prepare a nutritious home-cooked meal every night."
Happy Belly also strives to accommodate patrons with food allergies and special dietary requirements who have typically had a difficult time eating out. They offer gluten free and vegetarian options and the staff is trained to accommodate special requests from customers with food allergies. Their menu is 95% gluten-free.
"We also want our restaurant to be a place for families to gather over a good meal and spend time together," says Dawn. The restaurant has created "Disconnect to Connect" baskets where diners can put their phones and use the time to talk. They even provide games, coloring books and family conversation books to encourage family time.
In addition to their seasonal eat-in menu, Happy Belly also has a grab-n-go market to accommodate families with busy schedules who still want to serve healthy meals. They offer different meal options to go each day of the week. Happy Belly also uses their Food Truck to cater events throughout greater Atlanta.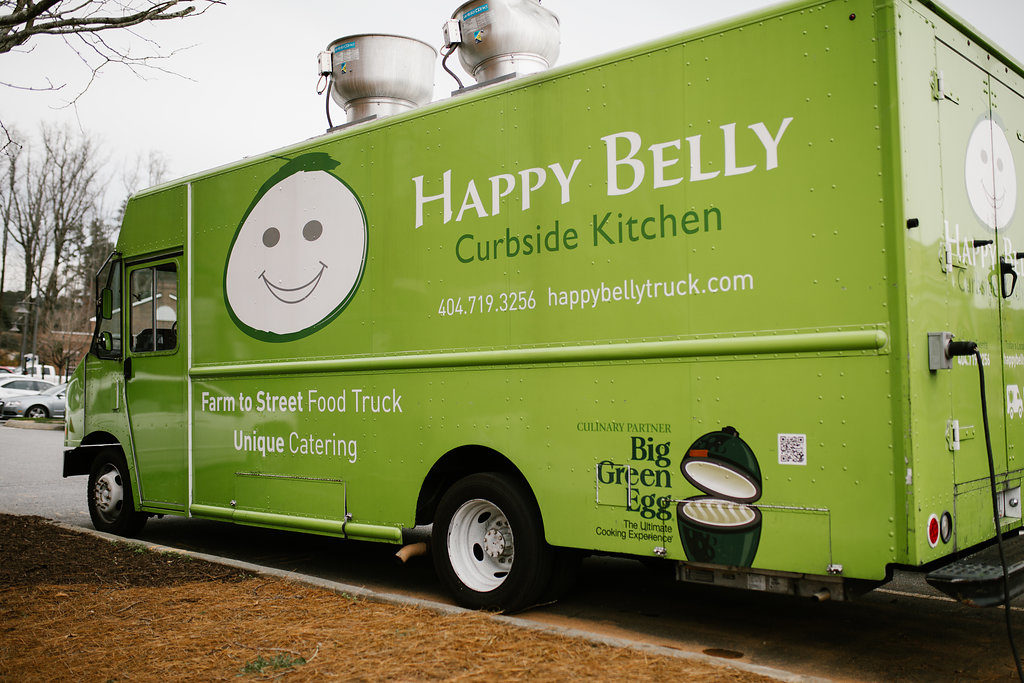 Dawn and her husband Terry started their food truck business, Happy Belly Curbside Kitchen, in 2012. Their goal was always to open a brick and mortar restaurant with the same convenient, healthy food concept. When Dawn's husband Terry passed away from cancer in 2014, Dawn faced the challenge of caring for her two small children as well as running the food truck. It was important to Terry that Happy Belly continue forward and maintain its purpose. Dawn forged ahead to fulfill their dream of opening their brick and mortar restaurant.
"Happy Belly Kitchen fits perfectly into our vision for the Village. We are thrilled to welcome them to our community," says Mark Murgash, owner of Vickery Village.  "We are excited to create a unique experience for people at Vickery Village – a place where they can live, work and play."
Vickery Village was purchased by new ownership in July 2016. Since that time, the owners have invested in major capital improvements on the property and are approaching 100% occupancy. Tenants Cherry Street Brewing and the Dojo added additional space to accommodate their growing businesses and new tenants Nido Café, Pinspiration, The Phase Shop, State Farm, Re/Max Collection and The Happy Home have recently opened. Village Yoga and Hawks Music Academy are scheduled to open later this year.
For more information on Vickery Village, visit http://www.vickeryvillageshops.com or https://www.facebook.com/VickeryVillageShops/