Author Hosts Book Signing For Teens At Post Road Library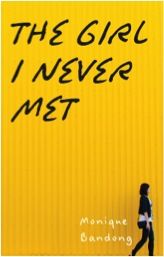 The Girl I Never Met by Monique Bandong
Monique Bandong, author of the newly released teen thriller The Girl I Never Met, will speak and sign books at the Post Road Library at a special teens-only after-hours event on Friday, October 14 at 6:30 p.m. The event is free for middle and high school students and no registration is required.
"Monique shelved books at the library when she was in high school. She was a voracious reader and loved to write," says Lisa Echols, Youth Services Supervisor at the Post Road Library and organizer of the event.
"I couldn't have been more thrilled to discover one of our teens had won the BookLogix Young Writers Contest! I knew we had to invite Monique back to the library, both to celebrate her achievement and to let other teen writers in the area know that they can be published right now, too," added Echols.
The Girl I Never Met is published by BookLogix as the winner of the 2014 Young Writers Contest. The book is available for purchase on Amazon, at BookLogix, and as an eBook with several retailers. Several copies are also available for borrowing in the teen collection at the Forsyth County Public Library.
Entries to the Young Writers Contest are scored for a variety of factors including creativity, narrative, dialogue, and overall writing ability. Monique's manuscript was selected as the winner in her age category by a panel of judges that included editors, publishers, teachers, and authors.
"Our judges were really impressed with not only the creativity and suspense of the story, but Monique's fresh voice and writing style," said Angela DeCaires, publishing director at BookLogix.
The Girl I Never Met follows Maya Cunningham as she moves to a new town and a new school, only to get caught up in the mysterious disappearance of her classmate Audrey. Oddly enough, Audrey bears a striking resemblance to Maya, and Maya is overwhelmed by the mysteries of her own past as she tries to unravel the truth of Audrey's disappearance.
"I've always been interested in the stories of runaways, but I didn't want to write from the point of view of one, at least not primarily," says Bandong. "I wanted to write about the people affected by the mystery, even the people who never really knew her, or even met her."
Winning the BookLogix Young Writers Contest gave Bandong a chance to experience the full process of writing, editing, publishing and promoting her work.
"I've heard the phrase 'writing is rewriting' before," explains Bandong, "but I got to learn that lesson the hard way. Writing professionally is a lot more time-consuming than writing as a hobby, but it's a labor of love and I found the process incredibly rewarding. My favorite part was getting to hold the finished book in my hands."
"The Young Writers Contest is one of my favorite parts of my job," DeCaires said. "The winners actually go through the same publishing process as any author we work with, so it's a really educational experience for them. We work with the young writer closely—developing and editing the manuscript with our team of editors, designing the cover and inside pages of the book with our designers, filing the copyright, getting the book and eBook ready to list for sale, and coaching them on marketing."
"Then they get royalty payments when copies of the book and eBook sell. It's a big achievement to be a published author at a young age, and most winners later make sure to list it on their college applications," explains DeCaires.
This year's Young Writers Contest is currently underway and writers ages 10 to 18 may submit their original, unpublished manuscripts online or by mail through December 31.
In addition to meeting the author, teens attending the event will receive information from BookLogix about how to enter the 2016 Young Writers Contest. Afterwards, to complement the mystery theme of the Bandong's book, Echols has planned an Escape the Room experience where participants are "trapped" in the Teen Room and have to discover clues and answer riddles to escape the room.
"What I find most exciting about this event is that we have an opportunity to discover teens who are incredible writers, but they think they have to wait until they are adults to make their passion a reality and have something published. BookLogix is giving teens a chance to be published right now. It is so inspiring for a local teen to have won the contest. I am thrilled that she can join us to discuss her writing process and success with other teen writers," says Echols.
For more information on the event, please visit www.forsythpl.org. For information on the Young Writers Contest, please visit www.booklogix.com.