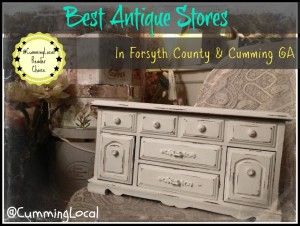 Best Antique Stores in Forsyth County & Cumming GA
Do you have some holiday cash left over and want to go shopping? My favorite thing is to go antique shopping. You never know what you will find. Here in Forsyth there are plenty shops to chose from. We took a poll and asked our Facebook followers to tell us where their favorite antique shops were. You can see the original list by clicking here.
For me the best antique stores in Forsyth County would be Green Bean Exchange, No Longer Bound – The Boutique,  and Queen of Hearts. I could browse in those stores all the time! I either walk out with product in hand or a cool idea!
These are in no particular order:
Anything else you can add to our list?