This post is brought to you by our contributing writer, Ashley Jansen. 
My kiddos had the entire week off of school for Winter Break. My parents (lovingly known as Emmy and Bubba to my boys) took them to Candytopia in Atlanta Thursday morning. I had my dad take some helpful notes and tips if you decide to go.
Specific Details
First, Candytopia is only open for a limited time. The last day for the Atlanta location is June 2. You are required to purchase tickets beforehand for a specific timed entry. TIP: Walk-ups are not allowed – you must have a ticket. Here's the website to purchase tickets –> CLICK HERE. Tickets are not cheap, but keep reading to find out if it is worth it. Pricing: Adults are $28, Kids (4-12) are $20, Kids 3 and under are FREE. They recommend you arrive 15 minutes before your timed entry. This is because you forfeit your time if you arrive 30+ minutes after your timed entry. (TIP: It is not a stroller friendly place and not intended for babies/infants).
Candytopia is located at Lenox Mall so you will want to plan a good hour to get there from Forsyth County. One perk is that all the parking is covered. (TIP: Park on Level B which is the street level of 'Oak Valley Rd. NE'; which is where the front door of Candytopia is located.)
Once you have entered, Bubba highly recommends you follow the instructions for downloading the free special photo app. There are four photo ops throughout the experience which are very clever and special photos (and free keepsakes)!
Themed Rooms & Tips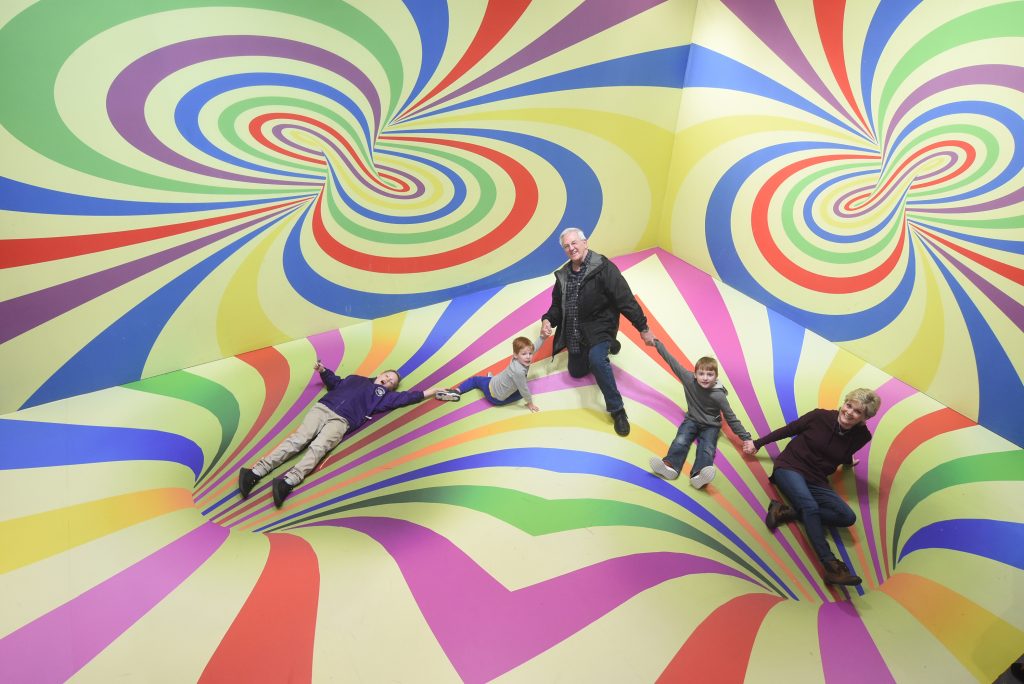 Candytopia has 7 different themed rooms. You will want to check all of them out. Each room has its own surprises and free-for-the-taking candy buckets.
Here are a few tips for each of the rooms:
• Room 1 "Library:" Watch the ceiling of clocks for a candy surprise!
• Room 2 "Play Ground:" 1st photo op.
• Room 3 "Wall of Portraits:" This room is probably more interesting for the adults – lots of reading – my parents would have stayed longer, but my boys were ready to move on
• Room 4 "The Ball Room:" 2nd photo op. (be creative with this one!)
• Room 5 "Underwater Ocean:" Take the time to read the details of each exhibit.
• Room 6 "Confetti:" I won't spoil the surprise, but be prepared! This is the 3rd special photo opp. TIP: Candytopia nicely thought of providing 2 air guns to literally blast off any unwanted confetti from your hair and clothes. Bubba says you will still bring some home with you.
• Room 7 "Marshmallow:" Last special photo op. The marshmallow pit (instead of a ball pit, it has ¼ million synthetic marshmallows) is fun for the whole family – shoes must come off. This is the only timed activity (15 minutes) of the entire experience.
After the last room you, of course, go through the gift shop before you can exit. The gift shop items are WAY expensive ($25 for an empty candy jar and $35+ for a t-shirt), but the actual candy is in fact "reasonably" priced which is what my parents got for the boys.
A Few Extra Tips & Final Verdict
1. Take your time. Even though groups are allowed to enter every 15 minutes you do not need to feel rushed. Just because they enter does not mean you have to exit.
2. Bubba asked and found out most of the workers/attendants are local college students. ALL were found to be very nice, energetic, and helpful. A few must have been drama/acting majors. You will understand once you enter.
3. Make sure you are all wearing shoes with socks, you wouldn't want to be barefoot in the marshmallow pit.
Bubba's final verdict: If you are asking if it is worth the money…Most certainly!! It's not a 'hands-on' activity – more exhibit feel and not a huge venue, but worth saying "That was fun and enjoyable!" My boys have not stopped talking about it and are asking to go back so that also says a lot.
If you go, please comment below and let us know your experience!
---
Ashley Jansen is a wife of 15 years to Mark and mom to three boys, Hamilton (11), Luke (6), and Garrett (3). Originally from Texas, she has lived in Forsyth County for the last 15 years. She loves Mexican food, watching football and baseball, reading a good book, making Excel spreadsheets, and prefers candy over chocolate and Dr. Pepper over Coke. She is a recent breast cancer survivor but still prefers purple over pink.
To learn more about Ashley and our other contributing writers, click here.