The following is a guest post by Cumming Resident, Author, and Marathon Runner, Eddie Robbins.  Eddie is sharing his personal journey and story in his new book, All My Strength.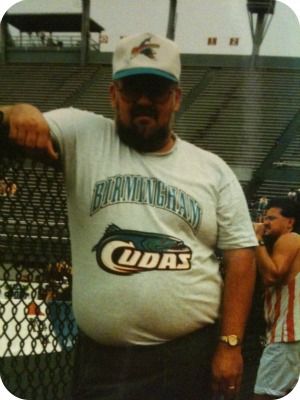 I grew up in Roswell in the 60s as a preacher's kid. Life was simple. We enjoyed friends, family and food. We really enjoyed food. Everything we did was surrounded by good Southern cuisine. As a result, some of us became overweight.  My Dad passed away with diabetes at the age of 53. He didn't take care of himself and was overweight. You would think I would have learned a lesson and lived a healthy life but I did not.
I went to Lee University in Cleveland, Tennessee. I got married and had 3 daughters. We lived in Norcross for years and moved to Cumming in 1994. I was a professional photographer for most of those years. All the while, my weight was increasing to a peak weight of 333 pounds. How did this happen to me? I knew better. It just did. No excuses.
On July 16, 2009, I lived the day that changed my life. Many things happened that led to this change including being 54 years old, 1 year older than my Dad when he died. Having the doctor tell me "the first symptom of a heart attack is a heart attack." Hearing the great personal motivator, Jim Rohn say "the best day of your life is the day you say 'I HAD it'" It was the day I found myself totally disgusted with me. I decided that I had HAD it. I was tired of being overweight and was going to change my life.
Once I made the decision, I had to have a plan. My plan was to walk 25 miles a week and simply cut back on the calorie and fat intake. So, I did. I lost 110 pounds in 16 months. I am so thankful for Forsyth County's park system. I utilized Central Park to walk. On cold or rainy days, I went into the gym to walk. Eventually, I began to jog a little just to get my heart rate up. One day, at Central Park, I jogged a whole mile without stopping. That event led me to strive to become a runner. I entered a 5k in Canton on Thanksgiving of 2009. I enjoyed the running event atmosphere. I have run in many events in Forsyth County. I am also running in other states.
I set a goal of running a full marathon after running in the Disney Half Marathon on January 2011. I decided on the Chicago Marathon on October 9, 2011. Again, Forsyth County aided me with the wonderful Big Creek Greenway. It is my favorite place to run. I did all of my marathon training there. What a beautiful place that the county does an amazing job keeping it clean and available for runners and bikers alike. So, I did the Chicago Marathon and continue to run in events. This year, I have a goal of running in 5 additional states, giving me 15 states in which I have run in events.
In just a few years, I have gone from over 300 pounds to running a marathon. My friends and family suggested that I write a book (All My Strength) about my experience in hopes it would help others who feel there is no hope. There is hope! If I can do it, so can you. You may not become a runner. You may be a walker, a biker or a hiker. The bottom line is to do something and change your life for fitness and healthy living!
All My Strength
Eddie's book is now available for purchase. 

Available on Amazon |  Available on Kindle
Additional Ordering Information
My book is now available and is called "All My Strength." You can find it on Amazon and also available on Kindle. You can also go to my webpage for additional order info.  My page is: www.allmystrength.org Let's get fit!