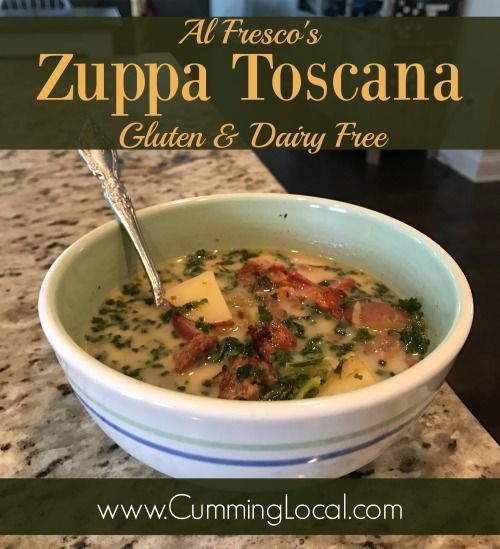 If you have been a reader of Cumming Local for the last year, then you know I eat a gluten free diet. Starting on January 1st of 2017 – I decided to go dairy free as well. I suffer from two autoimmune diseases – Grave's disease and Addison's disease. My hope is being gluten & dairy free will solve some lingering symptoms I have.
Anyway, a month or so ago Al Fresco reached out to see if i'd be interested in coming up with a recipe using their chicken sausage. I love to cook so I was up for the challenge. For this recipe, I used the Sweet Apple Maple chicken sausage. Al Fresco has several other flavors of their sausage – check them out by clicking here.
Today I'm sharing with you my take on a Zuppa Toscana…
Zuppa Toscana {Potato Soup with Kale}
Serving size: 6-8 servings
Ingredients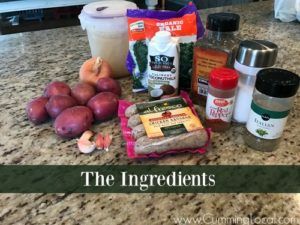 4 strips of bacon, cut up in pieces
1 lb. Adelle's chicken sausage, casings removed
1 large onion, chopped
4 cloves garlic, minced
1 1/2 tbsp. Italian seasoning
1 tsp. crushed red pepper, or more to taste if you like it spicy!
6 c. chicken bone broth (I used homemade that I keep in my freezer)
7 medium red potatoes, cut in bite size pieces
8 oz. frozen organic chopped kale *(Please note: I was out of Circle A Lettuce's Kale. I would recommend using that instead as fresh is always better than frozen!)
10 oz. can full fat coconut milk culinary ready
Salt and pepper, to taste
Instructions
In a large pot, cook the bacon pieces until done. Then take them out and rest on a paper towel. Keep the bacon fat in pan.
Add the chicken sausage and cook on medium-high heat for around 10 minutes until browned.
Add the onion, Italian seasoning, and crushed red pepper. Saute 3-5 minutes.
Add the garlic. And stir for 1-2 minutes.
Add the chicken broth and potatoes.
Then bring your soup to a boil.
Reduce heat, cover, and simmer 10-15 minutes.
Add the kale and coconut milk and simmer an additional 10-15 minutes until potatoes and kale are tender.
Add the salt and pepper to taste. And ENJOY!
---
Disclosure: Al Fresco provided Cumming Local with a voucher to purchase the chicken sausage.