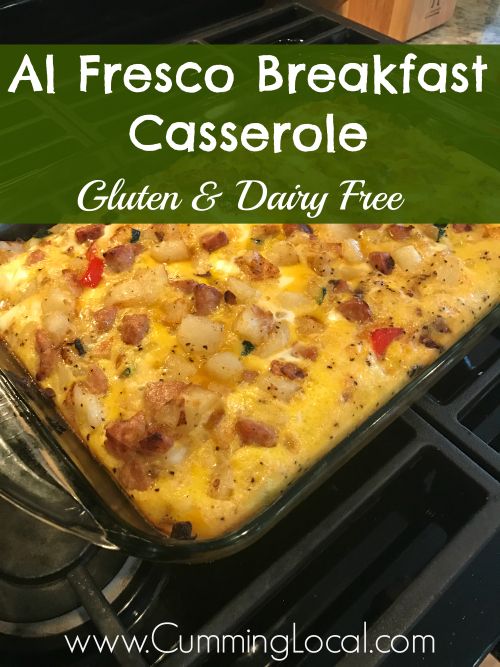 If you have been a reader of Cumming Local for the last year, then you know I eat a gluten free diet. Starting on January 1st of 2017 – I decided to go dairy free as well. I suffer from two autoimmune diseases – Grave's disease and Addison's disease. Being gluten free has stabilized by thyroid and allowed me to come off medication. However, my Addison's disease still has flare ups. So I'm hoping being off dairy will help the flare ups to lessen and maybe even get off medication. Fingers crossed!
Anyway, a month or so ago Al Fresco reached out to see if i'd be interested in coming up with a recipe using their chicken sausage. I love to cook so I was up for the challenge. For this recipe, I used the Sweet Apple Maple chicken sausage. Al Fresco has several other flavors of their sausage – check them out by clicking here.
Today i'm sharing with you the recipe I came up with…
Al Fresco Breakfast Casserole
Serving size: 10-12 
Ingredients: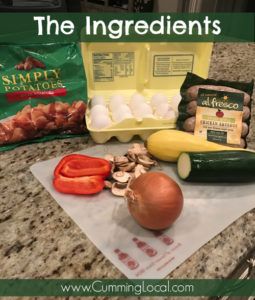 Al Fresco Sweet Apple Chicken Sausage
Simply Potatoes Diced Potatoes, 1 bag
1/2 red pepper, diced
1 onion, diced
1 zucchini, diced
1/2 cup white mushrooms, sliced
1 cup of Circle A Lettuce Kale, choppedCircle
10 eggs
2-3 Tbs. of Coconut oil
Salt/Pepper to taste
Instructions: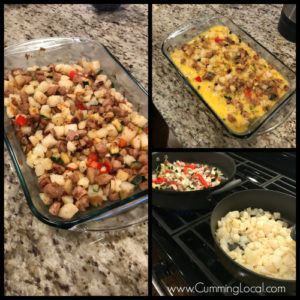 Chop chicken sausage and then sauté in coconut oil until browned.
Pour bag of simply potatoes in the same pan and brown up the diced potatoes as well.
Sauté the red pepper, onion, zucchini, and mushrooms for a few minutes.
Then place the sausage, potatoes, and veggies together in a 9 x 13 casserole dish. Pour the eggs over the top.
Bake at 375 degrees for 45-50 minutes until the egg has set and the top has browned.
Serve with avocado slices and enjoy!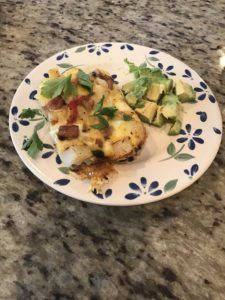 Sign up for Al Fresco's newsletter and get a $1 off coupon, by clicking here.
---
Disclosure: Al Fresco provided Cumming Local with a voucher to purchase the chicken sausages and potatoes for this recipe.