The following is a guest post by Jenna S.  Jenna & her family just moved to Cumming from Michigan late summer.  They are spending their first Christmas here in Georgia with their four children and we're excited to have them share their experience at Bottoms Tree Farm in Forsyth County.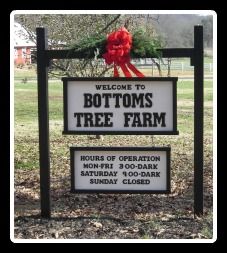 A wonderful family tradition filled with nostalgia for us is cutting down our own Christmas tree. It gives us an opportunity to work together as a family choosing and cutting down our tree, to have some great fun and laughs as we romp in the great outdoors, as well as shoot some great family photos that we will cherish forever. If you have never cut down your own tree, you've GOT to try it at least once. And since Bottoms is a local farm, it's a super short drive, not to mention supportive of our local Cumming economy.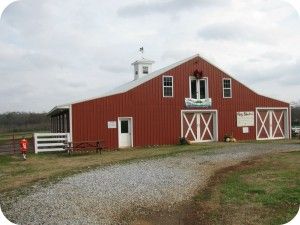 As we pulled into Bottoms Tree Farm, my husband said it best when he uttered, "same zip code, different world." This farm is beyond beautiful. It is impeccably maintained, charming, and the big red barn is the perfect backdrop for stunning holiday family photos. Not to mention the barn is full of the heady scent of fresh-cut Frasier Firs ($8/foot), handmade wreaths (starting at $25), and a country Christmas wonderland including a miniature barn where kids can sit and watch a kid-friendly Christmas movie while you shop the farm-grown, homemade jams, jellies, and pickled vegetables along with an assortment of Christmas decorations and holiday gifts.


They provide the saws for you to cut your own tree ($6/foot). After we tore the kids away from the adorable and friendly farm animals then played a massive game of "hide and seek" in the trees, we began our hunt. It was hard to decide between the deep green Leland Cyprus, the traditional Virginia or White Pine, the Cedars and the unique Carolina Sapphire or snowy-looking Blue Ice. But after much deliberation, we finally found "the one"! Farmer B will haul your tree from the field with his tractor then wrap it for free, but you've got to bring your own ropes, ties, or bungee cords to fasten it to your vehicle. After you've got the tree situated, relax around the fire pit and enjoy a free cup of hot cider while you roast marshmallows or let the kids frolic with the puppies in the barn while you shop.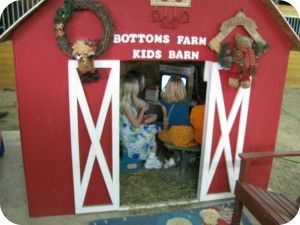 *note:  Pricing and activities may change at any time.
For FREE:
Toasting marshmallows around the firepit
Hot apple cider
Pet the farm animals
Coloring books
Christmas movie in the kids barn while you shop
Picnic table and restroom available for your use
Gorgeous photography backdrops all around the farm
For purchase:
Grown on the farm and canned by the Missus–Muscadine salsa, chow-chow, pickled beets, grape butter or jam sliced apples, apple sauce, butter, jelly, or hot pepper jam as well as peach jam and hot pepper jam. $3 per 1/2 pint or $5 per pint (we brought home a jar of peach hot pepper jam and it was FABULOUS! It may or may not be entirely gone already…)
Hayrides: $3 per person
Decorate a stocking: $3 per person
Tree life: $2.50 per pouch (add to your tree's water to extend the life of your tree)
Tree stands: $8 to $40
Variety of Christmas ornaments, decorations and items available for purchase in the barn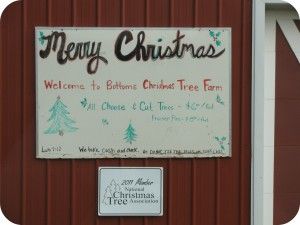 Bottoms Tree Farm will be participating in the "Trees for Troops" program again this year, where every $35 donated sends a tree to a local family with a member serving our country. Bottoms Tree Farm accepts cash or check only. Get ready, get set, GO GET YOUR TREE!
For this year's hours and pricing information, visit Bottoms Christmas Tree Farm online.
Connect with Bottoms Christmas Tree Farm
Bottoms Christmas Tree Farm
5880 John Burruss Road
Cumming, Georgia 30040
(770) 889-5235 or (706) 429-3173