The following is a guest post by Jenie, a Cumming Local Mom Contributor.  Jenie and her family just moved to Cumming in May of this year.

Fagan's Biscuit Barn – My new favorite restaurant
When we first moved here, one of the first places that caught our eye was the Biscuit Barn.  We thought the name was pretty funny, plus you can never go wrong eating biscuits. I'm so glad we tried it out!
If you've never been, the restaurant looks like a big red barn (and they have a drive-thru, yay!).  Inside, you wait in line to give your order, then sit at your table, and wait for your number to be called. The people that work there are very efficient and super friendly. You never have to wait very long for your food.
The first thing I ordered was a biscuit bowl. It is a biscuit topped with eggs, sausage (or bacon), gravy (or grits), topped with cheese. It was so good, I HAD to have a biscuit bowl every couple of weeks! (Who am I kidding, more like once a week.)
The lady that works there said I needed to work my way through the menu, because everything there is delicious.  So, I decided to try something new and I'm glad I did!  I have now had the best chicken fried steak ever, and the best chicken and dumplings ever!
Another thing I like about the Biscuit Barn is that they make a lot of their food from scratch. They also grow and sell some of their own produce.
This restaurant is very family friendly and the prices are great.
Hours are:
Monday-Friday 5:30am-2pm
Saturday 6am-2pm
Check out the full menu on their website:
www.fagansbiscuitbarn.com
1530 Peachtree Parkway
Cumming, GA  30041
More About Jenie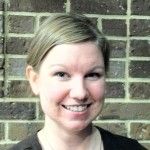 I am a newbie to Cumming. I moved here from North Texas at the end of May, and I really like living here. I've been married for 7 years and have 2 kids. A son that's 5 (he just started school this year!) and a daughter that is 3. I am a jack of all trades, but a master of none. I like to cook, sew, garden, read, work out, and my favorite thing is being a mom! Of course this is not everything about me, but I'll keep this short and sweet so I don't bore you to death!