Pinecrest Middle School Students Engage in "2018 Space Odyssey"
Pinecrest Academy's Middle School teaching teams are presenting a unit on "Space" in a creative way this week. Principal Denise Cress introduced "thematic units of study" in 2016, and the concept was so well-received by teachers and students, it now happens each November.
"We all know the best way to learn a language is by immersion," commented Denise Cress, Middle School Principal at Pinecrest Academy. "We've taken the same approach with our all school themed units, which are multi-sensory, and focus on experiential learning. Our students have a great time learning, and our teachers enjoy sharing in their excitement," she continued.
This year's theme is 2018 Space Odyssey, an intriguing approach to learning all about space. The launch of three rockets is planned for Thursday, and the entire Middle School took a field trip to the Tellus Museum in Cartersville, GA, on Wednesday.  A multitude of classroom activities that are everything "space" are happening daily.


The Middle School lobby has been transformed into a space station, and the week will culminate on Friday, November 16, with a talk by Mr. David Weigel, Director of Christenberry Planetarium at Samford University.  His talk will be about Pluto, its recent related discoveries, and how the scientific process relates to individuals. Mr. Weigel is a 2008 graduate of Pinecrest Academy.
"What's great about presenting a themed unit in the way we are doing so is that the theme runs across every subject area," explained Cress.
In 8th grade English, students read Ray Bradbury's All Summer in a Day, a story written in 1950 and set on the planet, Venus. After reading and discussing the story, students had the options of creating a Powtoon, a PowerPoint, or a Popup Book about All Summer in a Day.
In Spanish class, students have been introduced to space-related vocabulary and placed on teams to compete in various activities. They participated in an all-Spanish Kahoot trivia, which tested their Spanish knowledge, as well as their science-knowledge of all things space.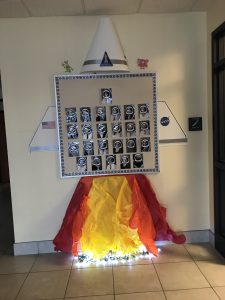 Math classes have challenged students to become engineers and design space landers with 4×5 inch cardboard, straws, index cards, mini marshmallows and tape. Their aliens (marshmallows) cannot bounce out of the cup (alien's cabin) when they test the lander for shock absorption and stability from 1-foot and 2-foot heights.
Students will complete their study of "space" on Friday, which also happens to be Pinecrest's annual Grandparents Day, during which more than 200 grandparents will be on campus.
As a follow up to the 2016 themed unit of study on World War II and the Holocaust, Middle School students will engage in the third annual Daffodil Planting, supporting the "Daffodil Project," on Friday, from 10:45-11:15am, in front of the Middle School. Started by Am Yisrael Chai!, a non-profit Holocaust Education and Awareness Organization, The Daffodil Project is a world-wide project empowering Holocaust Education. During the Holocaust, 1.5 million children died senselessly in Nazi-occupied Europe. Am Yisrael Chai! aspires to build a Living Holocaust Memorial by planting 1.5 million daffodils around the world to remember the children.
The site at Pinecrest designated for the daffodils was named the "Children's Memorial Garden," and was dedicated and blessed by former Middle School Chaplain, Fr. David Barton, LC, just before the daffodils were planted in November 2016. Students look forward to the spring when these daffodils will bloom, offering another reminder of the children of the Holocaust.
All are welcome to attend the talk on Pluto and the Daffodil Planting ceremony.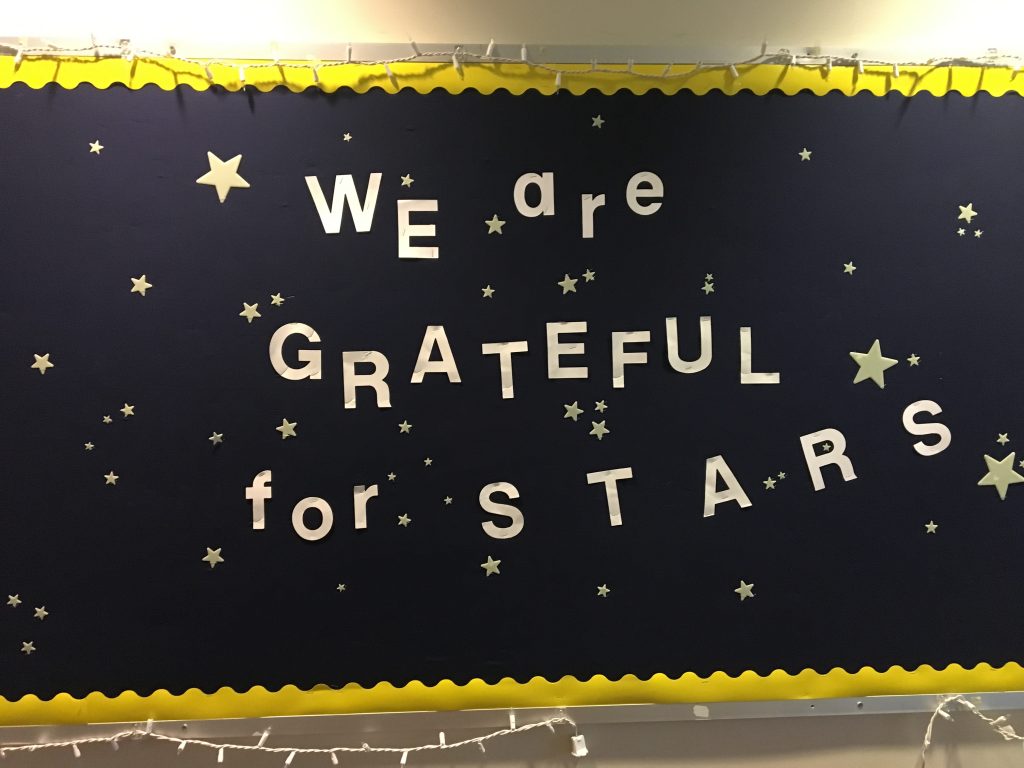 ---

Pinecrest Academy is a private Catholic school conveniently located in Cumming, South Forsyth, just minutes from Alpharetta, Johns Creek, Milton, and Suwanee. We serve families of all faiths seeking a Christian education for their children.
To learn more about our educational philosophy, please visit our website or connect with us on social media – Facebook | Instagram | Twitter