2016 Outdoor Summer Movies in Cumming GA, Forsyth County
Northside Hospital Healthcare System Movies in the Park™ is returning to Cumming / Forsyth – FREE outdoor summer movies are back this summer!   Movies will once again be shown at Vickery Village (Next to The Chill Hill).
Georgia Movies in the Park™ – Atlanta's best family outdoor movie series returns to the Atlanta / North Georgia area.  Presented by Northside Hospital and Southern Outdoor Cinema, Movies in the Park™ shows blockbuster films on huge inflatable movie screens in unique and historical locations.  Movie start times are kid-friendly and begin at sundown not dark.   Guests are encouraged to bring a lawn chair, blanket, and bug spray.  For more information visit
Georgia Movies in The Park on Facebook
.
This is Atlanta's only outdoor movie series that starts before dark.  Movies will start at sundown, all other series wait 30-60 minutes after sundown.  And this isn't just another outdoor movie series on a soccer field or football field – movies across Georgia are shown in unique or historical locations.  And Vickery Village definitely falls in that category.  Surrounded by local restaurants and right next door to Chill Hill, everything's in order for a great family night!
So grab your blankets, chairs, the kiddos and everything you'll need for a fun night under the stars.
The 2016 Outdoor Summer Movie Line-up in Cumming GA:
May 31 – Kung Fu Panda 3
June 14 – Star Wars: The Force Awakens
June 28 -Alvin & The Chipmunks: Road Chip
July 12 – Minions
July 26 Disney's Zootopia
Note: All events are free and will start at sundown (not dark) – this could be around 8:30-40pm – we'll update as we get closer to summer sundowns. Definitely arrive early so you don't miss it.
Events sponsored by Northside Hospital, The Chill Hill & Southern Outdoor Cinema.
More Information:
The Chill Hill is located at
5860 South Vickery Street
Cumming GA 30040
Please follow Georgia Movies in the Park on Facebook for weather related updates, you can also catch shows in nearby towns too.
Looking for more 2016 Summer Movies in Forsyth County?
While you're here, check out this listing for 2016 FREE Summer Movies at Carmike Cinema Movies 400.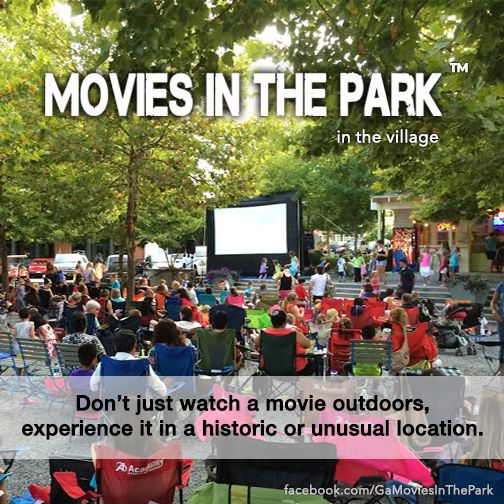 Other locations near Cumming GA:
Location: War Hill Park  | 4081 War Hill Park Rd, Dawsonville, GA 30534
Date: June 3, 2016 – Disney's Finding Nemo
Location: Elm Street Green | 111 Elm Street & Market Street, Woodstock
Dates: June 10: Disney's Zootopia and July 22: Star Wars: The Force Awakens
Location: Browns Park in Downtown Canton, Elizabeth Street (next to police station)
Dates: June 24 – Kung Fu Panda 3, July 16 – Disney's Zootopia, and August 20 – Alvin & The Chipmunks: Road Chip