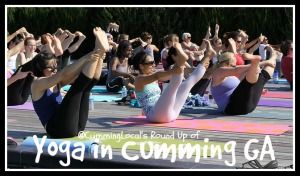 Yoga in Cumming GA
Thinking about trying out Yoga? We did a Facebook post asking our readers and you can see that post by clicking here. Yoga is a great way to exercise with all the stretching, balance, and relaxation. But it does work up quite a sweat. It's all about strengthening your core. And I know I need that! Maybe I will try it out too. Anyway, i've listed out all the recommendations. Hope you find one that works for you. Happy Yoga-ing!
In no particular order:
Yoga Selah
Do Yoga with Doug Keller
BodyPlex
Fowler Park Rec Center
Breathe Yoga Atlanta (Cumming location)
Freedom Journey Yoga
Central Park Rec Center
Be Here Now Yoga
South Forsyth Rec Centers
 Anywhere else you might add to take Yoga in Cumming GA?