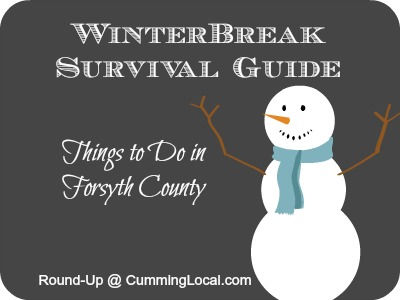 Winter Break Survival Guide:  Things to Do in Forsyth County
Forsyth County Schools are closed for 11 days over the Winter Break.  When you add the weekends in, it means the kids will be home 17 days straight.
I am completely thrilled to have my kids at home for such a long period.  The days will be filled with staying up late, sleeping in (hopefully) and we'll be so busy with family fun & activities that those 17 days will seem more like just a few!  But the truth is – they'll also get bored.  They'll start to fight with each other.  And on December 27th, they'll likely complain that they have nothing to play with.  Sound familiar?
So, we're sharing a round-up of ideas and fun in Forsyth County, be sure to check out our Calendar of Events for a full listing. 

See FREE Movies:  Forsyth County Public Library – Free Family Cinema
The Hampton Park Library in North Forsyth will be hosting three different movies during the break.
Friday, December 21st at 10:15am – Arthur Christmas (Rated PG, 97 minutes)
Wednesday, January 2nd at 2:00pm – BRAVE (Rated PG, 100 minutes)
Friday, January 4th at 10:15am – The Pirates! Band of Misfits (Rated PG, 88 minutes)
Enjoy an Indoor Playcenter



Go Rollerskating:  Let's Roll Skate 'n' Fun Center



Go Ice Skating:  The Ice
See a Movie



Lots of new movies are out this time of year.  Check out schedules for:
Go Bowling, Lazer Tag & More:  Stars & Strikes
Go Canvas or Pottery Painting
Enjoy Christmas Fun Together

Even though Christmas is just a few days away, there's still some fun to be had!
2012 Christmas in Forsyth County:  A round-up of events & happenings.
Christmas Eve Services:  Many options around Cumming & Forsyth County for traditional, communion, and candlelight services.
Blink Midwinter Light Show:  Enjoy the Blink Midwinter Show both before & after Christmas.
Bonus Tip:
Check back with us next week as we update our site with our New Year's Eve Round-Ups.  
Most Importantly?
Have fun & enjoy this Season.  I know I plan to!