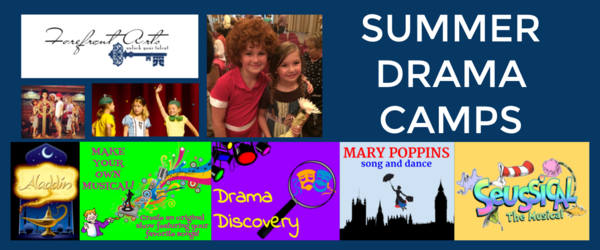 Why Choose a Forefront Arts Children's Theatre Drama Camp for your Child or Teen?
Do you want your child to engage her imagination, to be able to play by herself, to read a story and then act it out for you? Do you want your child to boost his confidence, to see the payoff of working towards a common goal and the resulting pride and satisfaction of a job well done? Do you want to give your child a screen-free experience where they can play, sing, dance, create, and learn a full production in just 5 days? Do you hope to help your quiet child gain some self-confidence while feeling safe, learning to perform as part of a group? Or do you have a scene-stealer in your home who was born in the spotlight and loves to perform?
Forefront Arts Children's Theatre summer drama camps are designed to fill all of those needs! We offer camp experiences for every age and level of experience! Over the past 5 years we have amassed a loyal following for our popular Production Camps with many campers attending every camp we offer each summer.
Our 2016 camp shows are ALADDIN, SEUSSICAL THE MUSICAL, MARY POPPINS, and MAKE YOUR OWN MUSICAL — a brand new camp where campers will select popular songs and create a storyline with characters to tie the songs together. Every week will feature new songs, choreography, storylines and characters as each week's campers write their own brand-new production!
We love seeing our returning campers grow in their skill level from year to year, and we welcome new campers every summer who bring new energy and excitement to our shows! Our camps start at age 3 and we love seeing campers who started in our preschool camps who are now attending our grade school camps and receiving lead roles based on the experiences they've received in our camps over the years! No matter what your level of experience, there is a place for you in our camps and we'd love to have you onstage with us this summer!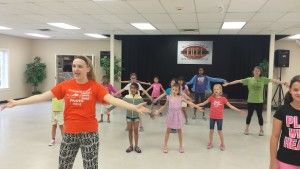 Shy children in 1st-5th grade who want to experiment with drama games and activities without the pressure of a big performance will love our Drama Discovery afternoon camps. Campers will spend their afternoons playing drama games, learning about Improv and Acting, and designing props, costumes and sets for our Seussical the Musical production camps. They are invited to attend the Production Camp performance at the end of the week as our guests of honor, but there is no cumulative performance component to the Drama Discovery camps and campers are able to participate at whatever level they are comfortable.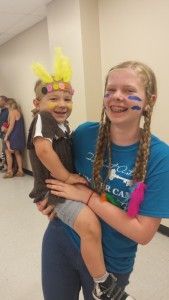 Preschoolers (ages 3-5) who love to be the center of attention, who love to sing, dance, create, and explore will love stealing the show as part of our Creative Dramatics camps. Each morning they'll do physical and vocal warmups, play drama games, make up and act out stories, make crafts to go along with the camp theme, play outside, learn about the show of the week, and rehearse several numbers to perform with the "big kids" in the big camp show at the end of the week. On the flip side, Creative Dramatics camps are also a great chance for quiet children to engage in creative games & activities, to sing, dance, and play, and to experience performing for the first time! All of the preschoolers perform as a group so the children can feel comfortable standing onstage with their friends and teachers, and they'll soak up the applause, attention, and flowers their supportive audience will supply after the show! We love seeing our preschoolers blossom each week and shine under the stage lights!


Students in 1st-8th grade are able to audition for roles in our Production Camps each Monday morning. Campers of all levels participate in our camps each week and enthusiasm and determination are the leading factors to casting the roles. Everyone has an equal opportunity to be cast in any role. We love our returning campers but we don't play favorites. We select camp shows that feature tons of roles at varying levels to accommodate campers of all levels of experience and confidence. If a camper wants a group role to gain some experience without having to sing a solo or learn lots of lines, we can do that. If a camper wants to play a lead role we encourage her to prepare a great audition song ahead of time, come in with a great attitude, and give her absolute best in all of the camp activities!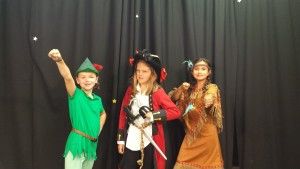 Teen performers (ages 13-20) will love our Summer Stock production of "Mary Poppins". In just six days (Monday – Saturday, July 11-16) teens will work with a professional director, choreographer and a team of teen advisors to put on an amazing show! Training throughout the week will focus on acting, music, and dance technique incorporating spins, leaps, tap, and stunts (those Chimney Sweeps have got some great moves!) The performances on Saturday night will feature all of the most-loved songs and dances from the show including "Super…" , "A Spoonful of Sugar", "Steppin' Time", "Jolly Holiday", "I Love to Laugh", "Chim Chimeree" and "Go Fly a Kite"!
In the past we've cast a brand new actor in the lead role because he came in the first day excited to be there, had prepared a great audition song, and it was clear he wanted to work hard and learn everything he could. That's what we're looking for in our campers! We will work with campers with no experience all the way up to campers who take private acting, voice, and dance lessons year round, or who have performed with us for years. Everyone has an equal opportunity in our camps! It truly comes down to attitude and enthusiasm!
Our staff are professional actors who love passing on their passion for the arts to our students! We have seen how experience in the arts can shape a child's self-confidence, their imagination, and their ability to engage with other children. Just like in sports, working towards a theatre production allows children to push themselves, to work as a team, and to see the payoff of a common goal! I mean, who doesn't love being applauded by adoring family and friends?
In today's culture where children and youth aren't given many opportunities to use their imaginations, to create stories and characters, and to engage in free play, Forefront Arts Children's Theatre's drama camps are designed to facilitate children using their creativity, working as a group, and exploring their imaginative side they may not utilize every day. In just 5 days our campers learn a complete show, which is pretty incredible. Every week our audiences are astounded by what the children pull off!
With a convenient location in Johns Creek and 4 camp shows to choose from, we hope to see your child or teen in our camp this summer! We offer a 10% sibling discount, and EVERY camper receives 30% off for their 2nd, 3rd, or 4th camp week. So if you want to do all 4 shows, you'll save a bunch of cash!
Connect with Forefront Arts: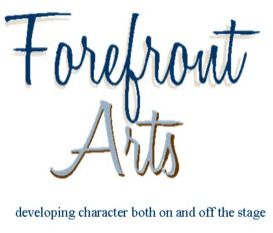 Visit them online to see the full camp schedule, dates, pricing, and tons of other info. Be sure to enter "Cumming Local Discount" in the comments section of the registration form to save $10 for any new campers, for the first time they attend a Forefront Arts camp. (Cannot be combined with other discounts and valid through April 15, 2016)
Contact Forefront Arts at (770) 864-3316 for any other questions!